It's hard enough for adults to build for the future when poverty is an ever-present barrier to be overcome. For many of the young people that we work with, poverty directly contributes to the complex situations they find themselves in, making growing up and finding their feet even more challenging.

We know that one in six Australian children – that's 740,000 children – are living in poverty, and this affects their whole lives.
A 2017 report into child poverty said: "Disadvantage early in a child's life reverberates throughout childhood and youth and the risks associated with disadvantage and academic adjustment continue and accumulate over time, ultimately affecting the child's socioeconomic status in adulthood." (Low-Income and Poverty Dynamics: Implications for Child Outcome, by Dina Warren).
Growing up in poverty has a profound impact on the start a child gets in life, and continues to throw huge challenges in front of young people as they get older. It's difficult to build for the future when you frequently go to bed hungry, can't afford to join in on school camps and sporting activities, or mum and dad are always stressed about money.
The challenges of living with poverty are very real for the young people who engage our programs, from children living in the Collingwood Public Housing Estate who take part in LiveWires after-school and holiday programs, to young people supported by Inside Out, Hand Brake Turn and Steps Outreach Service teams, and our Chaplaincy services at Malmsbury Youth Justice Centre.
That's why Anti-Poverty Week, which runs nationally from 13 to 19 October, is so important for raising awareness and understanding about poverty, and encouraging Australians to take action.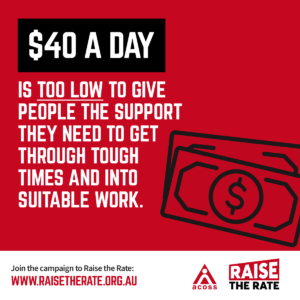 This year, the focus of Anti-Poverty Week is the Raise the Rate campaign, which is calling for Newstart and associated allowances – including youth allowances – to be increased by $75 a week.
About one million Australians rely on these payments, which have not been increased in real terms for more than 25 years. Newstart currently sits at about $40 a day, a rate so low that it traps many people in poverty; many employers say it's so low that it is a barrier to people searching for work. This impacts younger children with unemployed parents, or young people who are looking for work themselves.
At Concern Australia, we champion movements to address the long-term causes of disadvantage such as the Raise the Rate campaign, while also responding through our innovative programs to the immediate needs of the young people who are doing it tough and helping them to build for the future.
This week, we encourage you to find out more about Anti-Poverty Week and the Raise the Rate campaign, and get involved where you can.
You can find Anti-Poverty Week activities to get involved in, and learn about the actions you can take to support the Raise the Rate campaign by clicking on the 'take action' tab on the campaign website.
Share This Story, Choose Your Platform!