STEPS OUTREACH SERVICE
PROVIDING SUPPORT TO YOUNG HOMELESS PEOPLE

STEPS' WORKERS AND VOLUNTEERS HELP YOUNG PEOPLE WITH PRACTICAL AND RELATIONAL SUPPORT, WHICH INCLUDES HELPING THEM TO LOCATE APPROPRIATE ACCOMMODATION, PROVIDING CLOTHING, FOOD AND TRANSPORT.
Steps helps young people to build a sense of self-worth and equips them with the tools they need to create a positive future.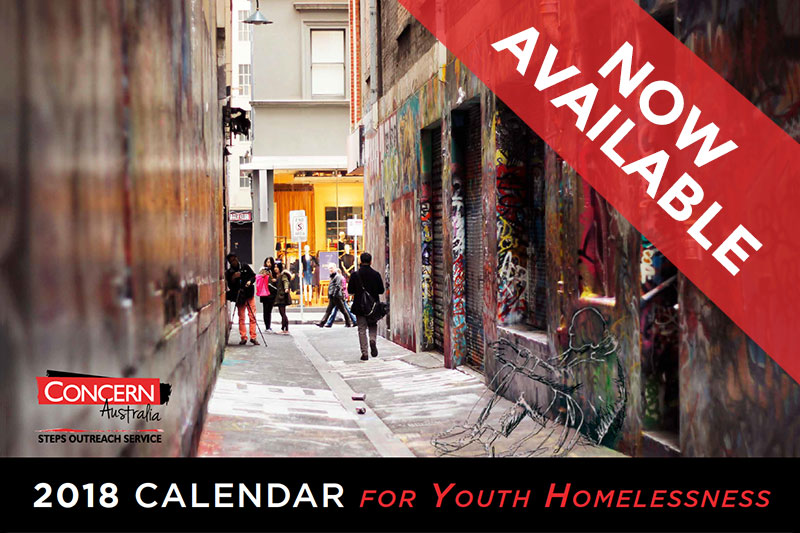 Get your copy of the 2018 Calendar full of inspiring images from this year's Homelessness Photography Competition and Exhibition. Also available is 'Under the Bridge' a book of poetry by homeless people matched with beautiful photography by Melbourne students.
To purchase single copies of the calendar and the book of poetry or both items, use the form below, shipping of $5 will be added to your order. For multiple copies call the office (03) 94702972 or email anne.mitchell@concernaustralia.org.au. Your completed purchase will be delivered by Australia Post. All proceeds go to continuing the work of Steps Outreach Service.
| Product | Title | Price | Purchase |
| --- | --- | --- | --- |
| | 2018 Calendar for Youth Homelessness | $15 | |
| | Under The Bridge | $10 | |
| | Special Price 2018 Calendar + 'Under the Bridge' | $20 | |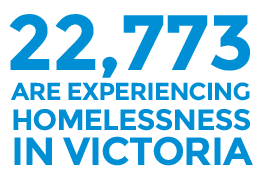 BEN'S STORY
Ben* grew up in a house where the blinds were always drawn. Holes had been punched in the walls and there were empty bottles of alcohol on the kitchen table. Dad was in and out of prison. Over the years, Ben experienced trauma and physical abuse, domestic violence and parental drug addiction and mental health problems.
Steps Outreach Service has been supporting Ben's family for the last two years. When we first met Ben he was an angry child with behavioural issues, who was often suspended from school. When he was 16 years old, Ben's father died of cancer and, not long after that, Ben ended up in court charged with serious criminal offending. He was angry, sullen and had poor social skills.
This year Ben has been provided with intensive support as part of our 'Staying Connected' project, helping young people to stay connected to education. Ben is supported by a Steps youth worker, as well as a volunteer community mentor who meets with him weekly. Sometimes they kick a footy or just sit in McDonald's and talk over a burger and chips.
Ben recently turned 17 and his mentor, youth worker and myself took him out for a birthday lunch. Ben has changed so much from that sad, confused, angry boy we first met. At his birthday lunch, Ben was talkative, polite and positive about his future. He is studying Year 11 and works part time.
Here at Steps we told Ben that we are very proud of how far he has come. He agreed that he has done well and thanked us for 'not giving up on him'.
*Ben's name has been changed