STEPS OUTREACH SERVICE
OUTREACH AND SUPPORT TO YOUNG PEOPLE EXPERIENCING HOMELESSNESS
Walk in My Shoes – an augmented reality experience
giving young people experiencing homelessness a voice
Walk in my Shoes is really Stevie's story, which was created using the actual words and real-life experiences of two young people who have a lived experience of homelessness and are supported by Steps Outreach Service.
We've been thrilled that our partner Catalyst VR have produced a short doco showing how they created the AR experience which you can see here.
You can follow Stevie's story now and check out the technology. If you're on a desktop, click on the poster below and scan the QR card with your phone to view her story. Have your headphones ready, and keep the image of the poster in your phone's camera lens the whole time. Alternatively, you can download the Walk in My Shoes Poster PDF and then scan it.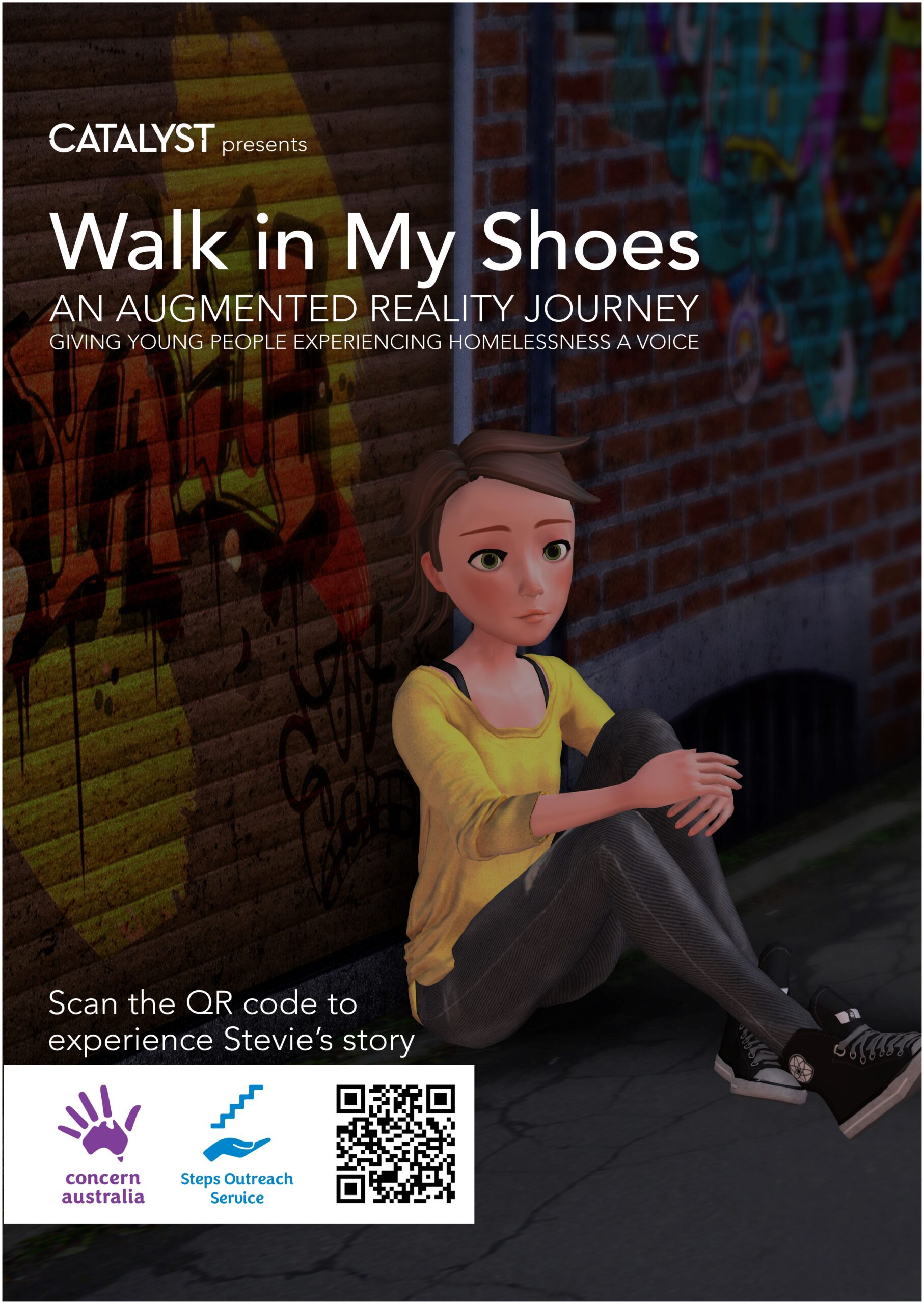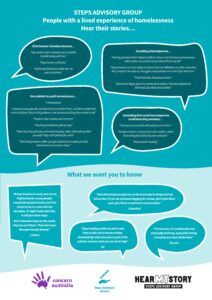 "Walk in my Shoes aims to give young people experiencing homelessness a voice while raising community awareness about youth homelessness and encouraging more people to respond to the issue and get involved to make a difference."
~ Anne Mitchell, Manager of the Steps Outreach Service.
STEPS' WORKERS AND VOLUNTEERS HELP YOUNG PEOPLE, children and their families WITH LONG-TERM RELATIONAL AND PRACTICAL SUPPORT, INCLUDING ADVOCACY, REFERRAL AND MATERIAL AID.
STEPS helps young people to build a sense of self-worth and equips them with the tools they need to create a positive future.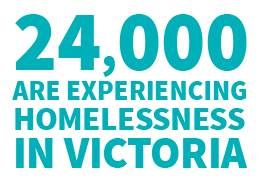 SARAH'S STORY
Scared, exhausted and cold, Sarah slept rough in the city for nearly 6 months. It was difficult to sleep at night lying on the cold, hard footpath. There were rats and bugs and scary people who yelled at her and stole her possessions.
The Steps' team met Sarah at a food van in the city. They listened to her story and helped her with her needs, initially by buying her a meal and a hot drink, supplying warm clothing and toiletries and giving her someone to talk to that she could trust and rely on.
Sarah told the Steps workers that she was removed from her family when she was 5 years old due to abuse and neglect. She grew up in out-of-home care until she was exited at 18 years old. As a result of the trauma she has experienced and her mental health issues, her behaviour is often chaotic and she easily becomes aggressive. Because of this, she burnt a lot of bridges with crisis accommodation services, many refusing to have her back and she eventually ended up on the street.
With perseverance, patience and empathy, Steps' workers developed a caring, trusting relationship with Sarah. They met with her regularly and demonstrated to her that they care about her. They helped her develop goals and affirmed her strengths and ability to achieve her goals. Her first goal was to get off the street. Steps referred Sarah to a housing service and to mental health support, drove her to appointments and advocated for her with these services.
It took a long time and a lot of support but Sarah is now living in a one bedroom unit, seeing a psychologist and making positive changes in her life. She recently finished a barista course and is focused on getting a job.