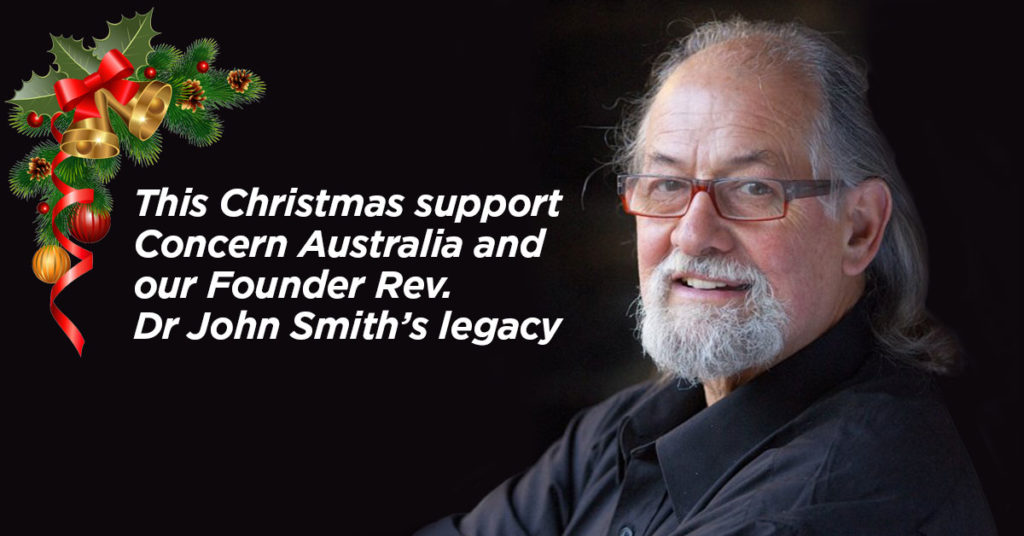 "When the pioneer is gone, those who follow will do more …"
~ Rev. Dr John Smith, Founder, Concern Australia
Almost 50 years ago the Rev. Dr John Smith had a vision of an Australia that nurtures its children and young people – particularly those who are at risk of being left behind, broken and forgotten.
This vision led John to create the agency that is now Concern Australia.
John died in March 2019 after a long battle with cancer. Concern Australia's work to offer vulnerable young people and children hope for a successful and positive life is his legacy.
This legacy is also yours, visible in the stories of the young people you have supported through our programs.
Thank you for the lives you have touched over the years.  We invite you to support John Smith's legacy this Christmas so we can continue to provide hope and care to young people and children in the spirit of his vision.
John Smith encouraged Concern Australia staff to continue their life-changing work, saying:
"Those who are marginalised and who the world could easily forget are

not forgotten by Concern Australia

."
These are young people like Adam*, who found himself in the Child Protection system, living in residential care, traumatised and on the path to destructive life choices. With the stability of living in one of our Inside Out homes with live-in mentors, Adam is now completing year 11 and has recently achieved his learner's driving licence.
"To everyone that's helped me to get where I am, it's fantastic. Thank you so much and thank you to Concern Australia," Adam said. 
Or Taylor*, who was pregnant, homeless and in an abusive relationship when our Steps Outreach Service team started working with her. Now she's in stable accommodation, and the Steps team continues to support her and her son.
"Steps has been with me through the highs and lows and has been an amazing support that has made a difference in my life," Taylor said. 
Or Roger*, who completed our Hand Brake Turn course 20 years ago, turning his life around and giving him the foundation to now run his own business.
"I left school when I was 15 and your organisation gave me the skills I needed to get an apprenticeship in panel beating. What I learnt back then has helped me become the person I am today," Roger said.
---
WHAT YOUR DONATION CAN DO:
---
Almost 50 years after John Smith first took action, we're still here, supporting some of the most marginalised, disadvantaged and complex young people, responding to the changing needs and issues in the culture around us, and helping the next generation of Adams, Taylors and Rogers to write a new story.
Could you make a difference this Christmas and make a donation? We need your continued support to sustain and build on John's Smith's pioneering work and together offer hope to the young people who come into our care.
You can find out more about the impact you can make in 'Together', our 2018-19 Annual Report, available for download as a pdf now.
"I hope that from the church to the Parliament that when I'm gone there will be increasing, not decreasing, support of money and personnel and ideas so that which has been such a terrific ministry would be even greater in the decades to come," John Smith said.
Support John Smith's legacy – donate to the John Smith Memorial Christmas Appeal today.
As we seek to honour the memory of our founder, we think of the call to, "Remember your leaders, those who spoke the word of God to you; consider the outcome of their way of life, and imitate their faith." (Hebrews 13:7)
May this festive season bring you joy as you reflect on the life you have brought to others through your gifts.
All donations over $2 are fully tax deductible.
* Names have been changed
Share This Story, Choose Your Platform!