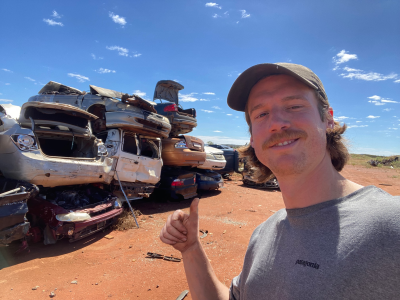 We are thrilled to share with you the inspiring story of Hand Brake Turn Trainer, Callum, who is embarking on a short-term placement to provide the Hand Brake Turn course to rural Aboriginal communities.
For this initiative, Callum has ventured far from home, in a rural community called Yuendumu, some 300km outside of Alice Springs.
This placement is an exceptional opportunity for Callum to work with young people in disadvantaged communities, teaching them automotive mechanics and providing them with the skills and experiences they need to thrive. Callum's goal is to provide each young person with a positive and safe experience, and he hopes to create a ripple effect that inspires and empowers the entire community.
Callum's journey as a mechanic began at an early age, fuelled by his love for cars and motorcycles. He pursued his passion for mechanics and completed his apprenticeship at a local mechanic and car dealer, where he honed his skills and gained expertise working on specific manufacturers such as Hyundai, Isuzu, and Subaru. His passion for empowering young people and providing them with opportunities led him to work at Concern Australia, where he is committed to making a positive impact on the lives of disadvantaged youth.
Callum's decision to accept this rural placement in Alice Springs was not just about exploring the vast and beautiful Australian outback but also about working alongside and learning from the Aboriginal community of Yuendumu. He is determined to build strong relationships with the local community and the students and their families.
At Hand Brake Turn, we believe that every young person deserves an opportunity to learn new skills and develop positive experiences that will shape their lives. Callum's passion, commitment, and skills make him the perfect person to lead this rural placement program, and we are confident that he will make a significant impact on the young people and community he is working with.
We are excited to follow Callum's journey and to see the positive impact that he will have on the lives of the young people and the local community of Yuendumu, exemplifying our commitment to social responsibility and community engagement.
Thank you for your continued support and we look forward to updating you on Callum's work in Yuendumu!
Share This Story, Choose Your Platform!