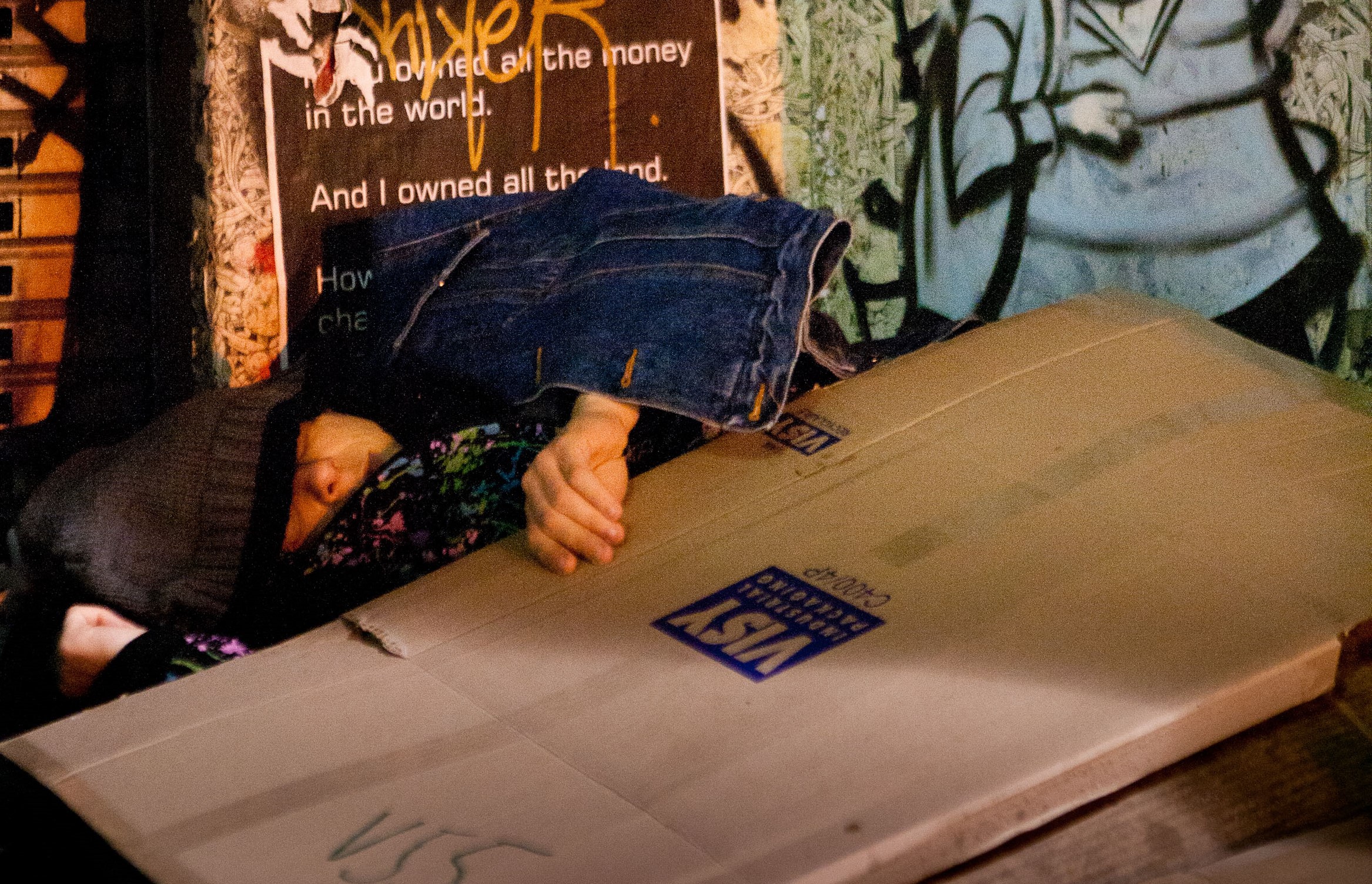 Pictured: Many of the young people supported by our Steps Outreach Service have experienced sleeping rough on the street. 
Jade is a teenager who has experienced many years of homelessness in her young life. The COVID-19 lockdown has added to the challenges that Jade deals with on a daily basis, but with your support she is getting the help she needs through our Steps Outreach Service team.
The Steps team met Jade in Melbourne's CBD three years ago when she was living on the street. They helped Jade into a youth refuge, referred her to mental health and other services to help ensure she gained access to safe, stable but temporary accommodation. This support eventually led to finding long-term housing in a different region within the year.
Jade lives with trauma from her chaotic upbringing and does not cope well with change. After months of feeling isolated and alone in her new unit, she ended up back on the street sleeping rough, first staying in a squat and then on the footpath in the city.
Steps workers continued to support Jade during this time, referring her to housing and mental health services, driving her to appointments and advocating on her behalf.
While the COVID-19 crisis had led Jade to being rehoused in crisis accommodation, the social restrictions as a consequence of the pandemic are worsening her loneliness and depression.
The Steps team continues to support her through phone calls and delivering supplies of groceries, cooked meals and hygiene items provided through the support of our generous donors. These donations and Steps support show Jade that people care about what happens to her and have made a difference to her sense of well-being.
It's hard to make positive choices if you are struggling to find shelter, warmth, food and clothing. When these needs are met, the support of a committed worker they trust and know cares about them can help a young person such as Jade to begin to develop and meet their goals and dreams and go on to have a positive future.
Your generosity means that the Steps team can continue to offer critical support to Jade during the current pandemic and into the future, walking alongside her until she is safe, stable and making positive life choices.
Your support is so important. About 44% of people requiring help from homelessness services are young people and children; family conflict and domestic violence are the main causes. What many people don't know is that nearly half of young people exiting homelessness relapse back into homelessness.
These are the young people and families with children who are supported by Steps Outreach Service. Most have experienced childhood trauma including verbal, physical and sexual abuse and neglect. Many have grown up in out-of-home care.
For these young people, like Jade, life before COVID-19 was already tough enough. The combined impact of social restrictions and the health threat of the coronavirus on these young people who were already vulnerable can't be overstated.
Thank you for showing your love and support for these young people.
Together we are making a difference.
You can donate to our COVID-19 CRISIS APPEAL now. 
Share This Story, Choose Your Platform!