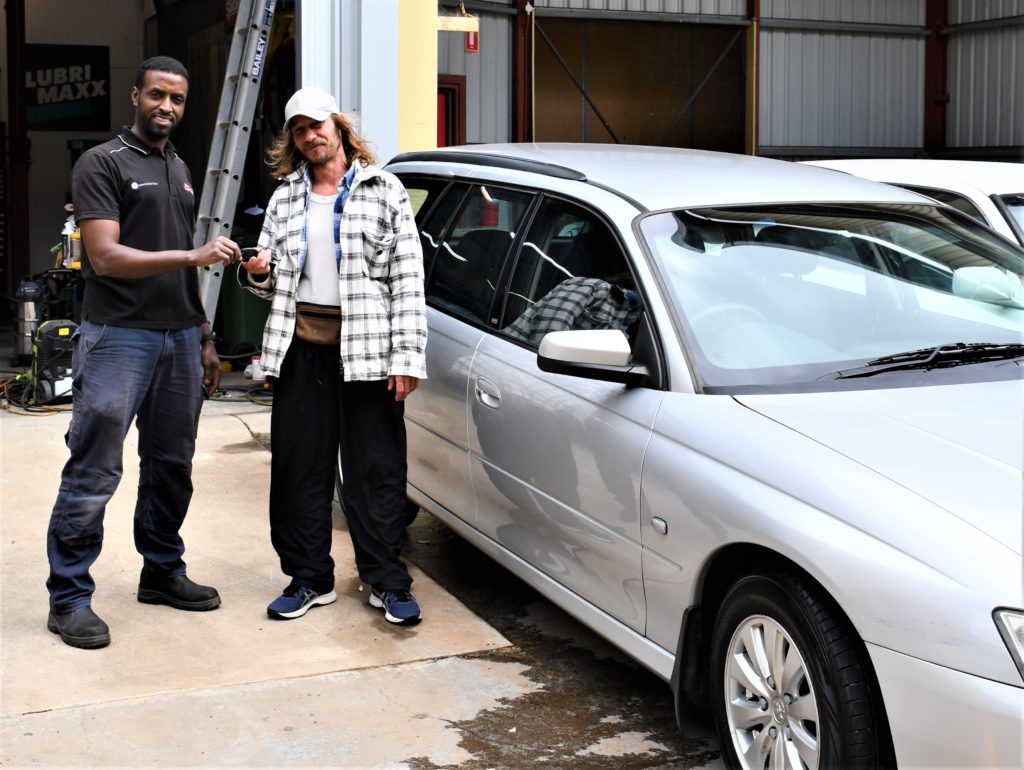 Yahye Ali, Hand Brake Turn Workshop Co-ordinator North-West, hands the Commodore keys to Steve.
Steve Neville has had a rough time of late, but thanks to the Hand Brake Turn fiXit social enterprise, he's now back on the road, making family life much easier for him and his three children.
As a single dad to three children aged 12, 8 and 6, a reliable car is a necessity for Steve. But on Christmas Day 2019, his previous car was written off in a collision, and since then family logistics have been complicated and financial difficulties have been building.
Steve said that he was lucky that the children's school is close to home, but finding work and providing for them was very challenging without a vehicle.
With his situation not improving, Steve decided to contact Good Shepherd Microfinance to find out what support was available, and they put him in contact with Hand Brake Turn. After finding out more about Steve's situation, we were very pleased to give him the keys to a Commodore wagon that had been worked on as part of the fiXit program, with Steve only having to pay for the roadworthy and registration.
"Thank you. Without this, I'd be in strife," Steve said. "I've had to call on people to help with life's challenges. This car is a blessing and I really appreciate it."
The fiXit program gives young people who have completed our Hand Brake Turn seven-week course the opportunity to build on their new automotive skills with practical work experience. They work alongside Hand Brake Turn staff fixing up donated cars that are then sold or gifted to members of the community who are in need, along with servicing cars for staff, community partners and members of the public.
Steve is no stranger to services that support people who are experiencing life challenges. As a young man he spent many years homeless and fighting drug addiction. When he stabilised his life, he wanted to give back to the community. He started the Portable Bed Project, providing camp stretchers and other material aid for people experiencing homelessness in the Geelong area.
Steve ran the Portable Bed Project for about four years. Then life changed again and he was faced with the responsibility of being a single father. He had to pause the project to focus on his children.
It's a great example of what can happen when we work together as a community. We can all play a role in supporting each other at different points in our lives. We're pleased to be able to support Steve in his time of need so that he can continue to provide for his children, and look out for the needs of others as he's able.
We need more donated cars so we can help people like Steve while providing work experience for young people seeking a career in the automotive industry. To donate a car to Hand Brake Turn fiXit, contact us on 03 9470 2972, or email jonathan.sugumar@concernaustralia.org.au
Share This Story, Choose Your Platform!