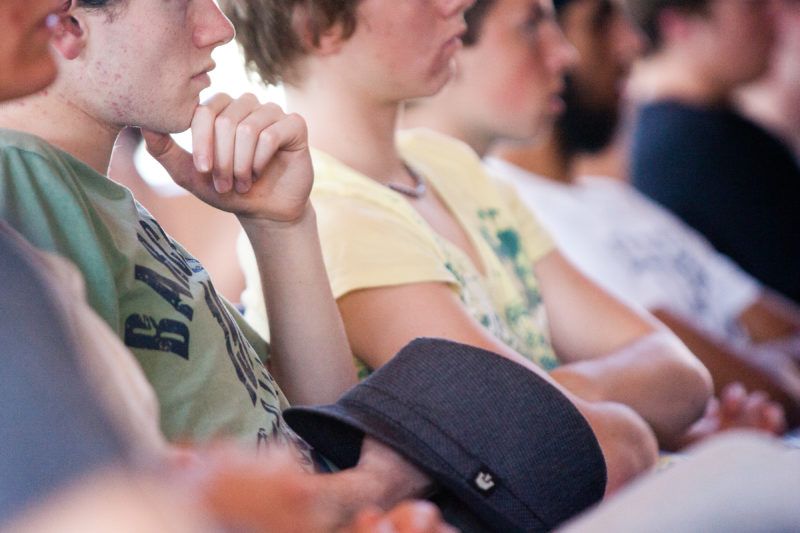 Pictured: Teenage boys listening to Man Up seminar
Values for Life Team Program Manager, Tim Powell, engaged approximately 50 teenage Year 10 boys at Carawatha College in an interactive seminar called 'Man Up – discovering true masculinity.' The school is culturally diverse catering for over 60 different nationalities located in a low socio-economic area of the City of Greater Dandenong.
Tim's aim for the session was to encourage the male cohort to be people of strong character that would make a positive difference in the world. Emphasising to students to avoid following damaging cultural norms or negative male stereotypes sometimes represented in the media. This was a part of the schools broader wellbeing approach around addressing what masculinity means and what it means to be a man.
After the session, Tim Powell spoke with a teacher who wanted to share how thankful and appreciative she was of the school incursions he conducted. "Many of our students have been challenged with significant life issues that has affected their education and interaction with other students and teachers," she shared. "It was so valuable to have external presenters visit and teach students, in addition to the teachers, important life lessons that will positively influence and impact their overall social skills and academic success." 
Concern Australia would like to thank the Rotary Club of Moorabbin for believing in the importance of helping children and young people negotiate their way through their early years to reach their full potential. Without their support the school shared they would not have been able to fund this seminar and gain  important educational resources. 
We are also talking with other Rotary Clubs who are interested in supporting Values for Life school seminars in their community. To find out more, please contact: Jo.Thitchener@concernaustralia.org.au
Share This Story, Choose Your Platform!