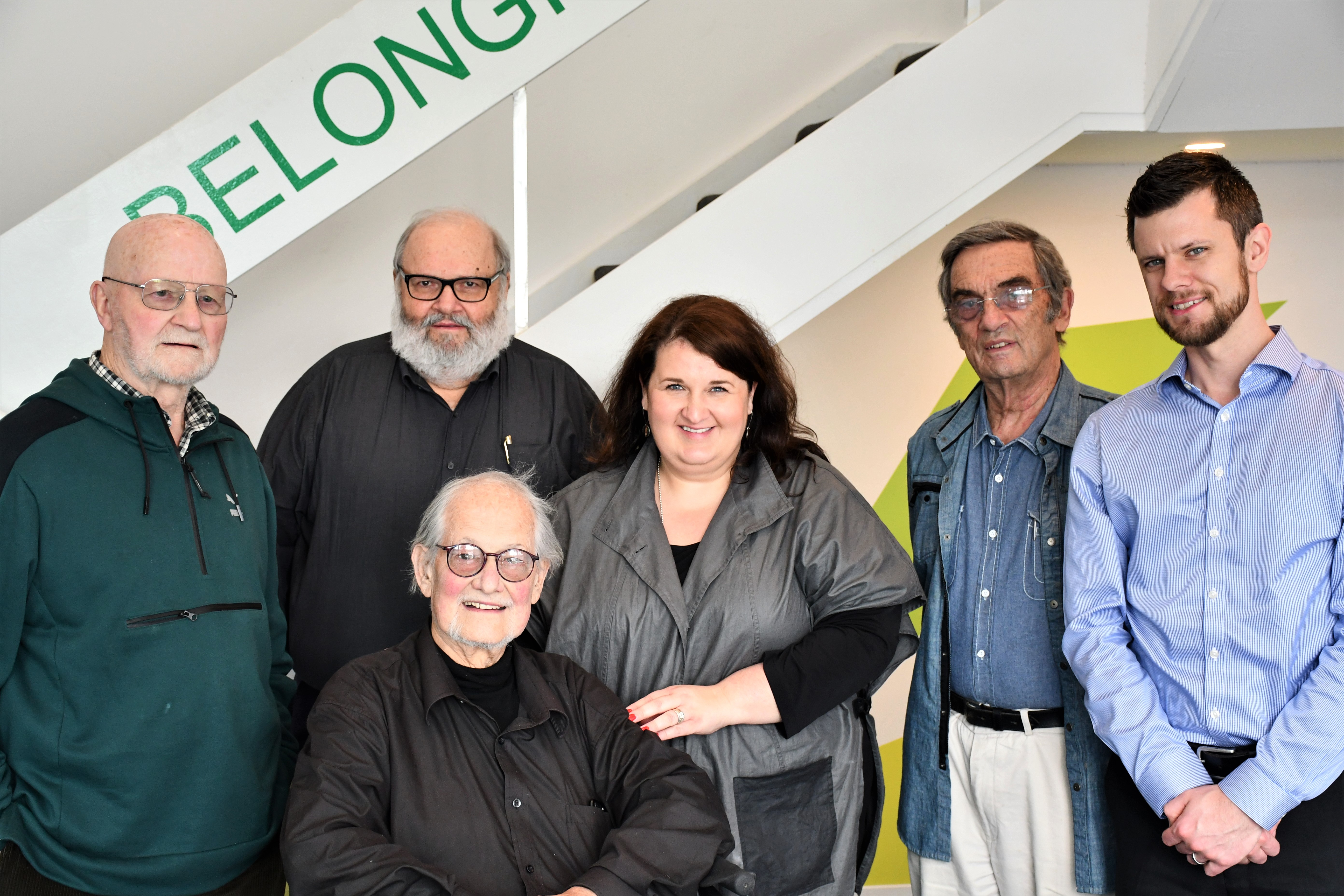 Joy and Russell Smith have been long-term supporters of Concern Australia's work, with their significant financial support over more than two decades impacting the lives of thousands of children and young people.
Like many others, their first encounter with our work was through our late founder, the Rev. Dr John Smith. Russell is pictured above, second from right, with former and current Concern Australia Board Chairs, CEO Michelle Crawford, and John Smith (seated).
"John Smith and the God's Squad first burst on the Christian scene to the then largely conservative churches in the early 1970s," said Russell. "We, like many others in such churches, were somewhat taken aback with John's brash, noisy style of evangelism with the Harley Davidsons and God's Squad.
"Of course, there was much more to John and his noisy 'Squaddies'," said Russell. Joy and Russell were initially drawn to the emerging Values for Life program, in which John and others would speak to school students about a range of topics related to growing up and making healthy choices.
"After he gave a presentation to an organisation that I was President of, we spent time talking to John about Values for Life. It really caught our attention. John had a clear vision for providing young people with a foundation for the future. It's the main reason that Joy, and then myself, got involved."
Joy and Russell soon warmed to John's emphasis on people experiencing disadvantage and marginalisation, and became active supporters. In 2005 John asked Joy to join the Concern Australia Board.
"By then Joy had established her own successful financial business and her commitment to significant philanthropic support extended to John personally and to Concern Australia ministry generally," said Russell.
Russell later joined the Concern Australia Board because of his involvement with Joy's foundation but also because of his many years in Special Education, particularly with disadvantaged and disabled children and adults. He was Chair of the Concern Australia Board from 2012 to 2015, a time in which Concern's offices were moved from above St Martin's Church in Collingwood to Preston, and the agency's work expanded considerably.
Over their many years of support, Joy and Russell have contributed significant funds to almost all of Concern's programs, with a particular emphasis on Values for Life and Hand Brake Turn.
"Hand Brake Turn gives young people who may not have other options the opportunity to pursue gainful and satisfying employment, and it does that in a very practical way," said Russell. "We have also donated three or four cars to the Hand Brake Turn program over the years."
Russell said their ongoing support for Concern Australia has been sustained by the organisation's commitment to John's original vision.
"The dedication to the calling of God to assist young people through its diverse programs has kept us involved," he says.
"Our commitment to Concern Australia in prayer and financial support continues to this day and our interest in the wonderful ministries of Concern Australia is as strong as ever," said Russell.
We are deeply grateful for the contributions of people such as Joy and Russell Smith that enable us to continue to provide hope and care for young people and children.
You can support our work with a donation today, or consider leaving a gift in your will.
Share This Story, Choose Your Platform!