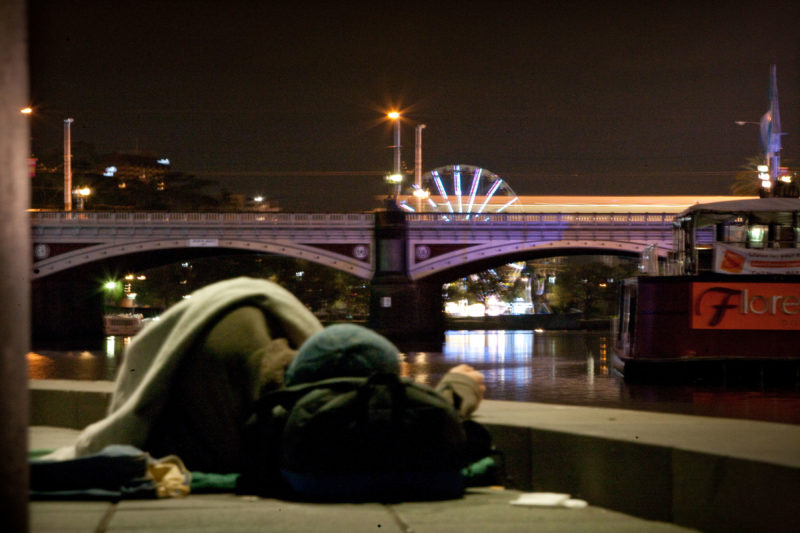 Dear Friends,
Everyone has a story to tell
– with your support this Christmas, we can listen.
Christmas brings a lot of joy for families all over Australia. We know working with young people experiencing trauma, mental illness and homelessness that Christmas is not a time of joy for everyone, but rather marked by loneliness and isolation.
Homelessness has been under the spotlight in recent years. Census 2016 statistics revealed that homelessness has risen 13.7% in five years. On Census night, 116,427 people were homeless in Australia and 24,817 in Victoria of which 10,000 are under the age of 25 years.
This year, our Steps Outreach Service team were on the streets of Melbourne 47 weeks, helping young people experiencing homelessness. With 274 contacts made, our Youth Workers were able to help 20 families and 95 young people were supported.
Our Steps Outreach workers met Sarah* at a food van in the city one night. They gradually got to know Sarah and were able to help her out when no one else would.
Initially, they bought her a meal and hot drink and provided clothing and toiletries. By being there, they gave her someone to talk to that she could trust and rely on. Once a strong relationship had been established, Sarah then became open to other support.
Sarah was removed from her family when she was 5 years old due to abuse and neglect. She grew up in state care until she was forced to exit at 18. Due to her trauma-based behaviours and mental illness, Sarah burnt a lot of bridges with crisis accommodation services, many refusing to have her back, and she eventually ended up on the street.
Our Steps Outreach team met with Sarah twice a week, talking with her about goals and needs. They helped Sarah find accommodation, access mental health support, drove her to appointments and advocated on her behalf.
With the help of the Steps Outreach team, a lot of perseverance, patience and empathy, Sarah is now living in a one bedroom unit, seeing a psychologist and making positive changes in her life!
Sarah recently finished a barista course and is now focused on getting a job.
In our 2018 Staff Survey, we asked our team what our point of difference was and responses included:
"Everyone has a story and we care for the individual."
"We stick with and accept some of the most difficult kids."
This approach has set Concern Australia apart for nearly 50 years! We have been supporting young people, believing in them, providing opportunities that empower them. Through our work, we see young lives begin to believe in themselves and follow a path where they can reach their full potential!
Every day, our team have a positive impact on young people like Sarah. Our commitment is that all young people and children have a voice, that they know they belong and are supported, and they start to believe in a brighter future.
Your donation this Christmas will help our Steps Outreach Service to provide intensive support for young people like Sarah. Your financial support allows us to offer person-centred programs like Steps that change lives and make a difference for young people like Sarah.
If you would like to call and make a donation you can contact us on 03 9470 2972.
Thank you for your gift this Christmas.
Our prayer is that "you will be enriched in every way so that you can be generous on every occasion, and through us your generosity will result in thanksgiving to God." – 2 Corinthians 9:11
May you experience joy this festive season as you bless others in a real and meaningful way.
Michelle Crawford
Chief Executive Officer
*Name has been changed.
Share This Story, Choose Your Platform!