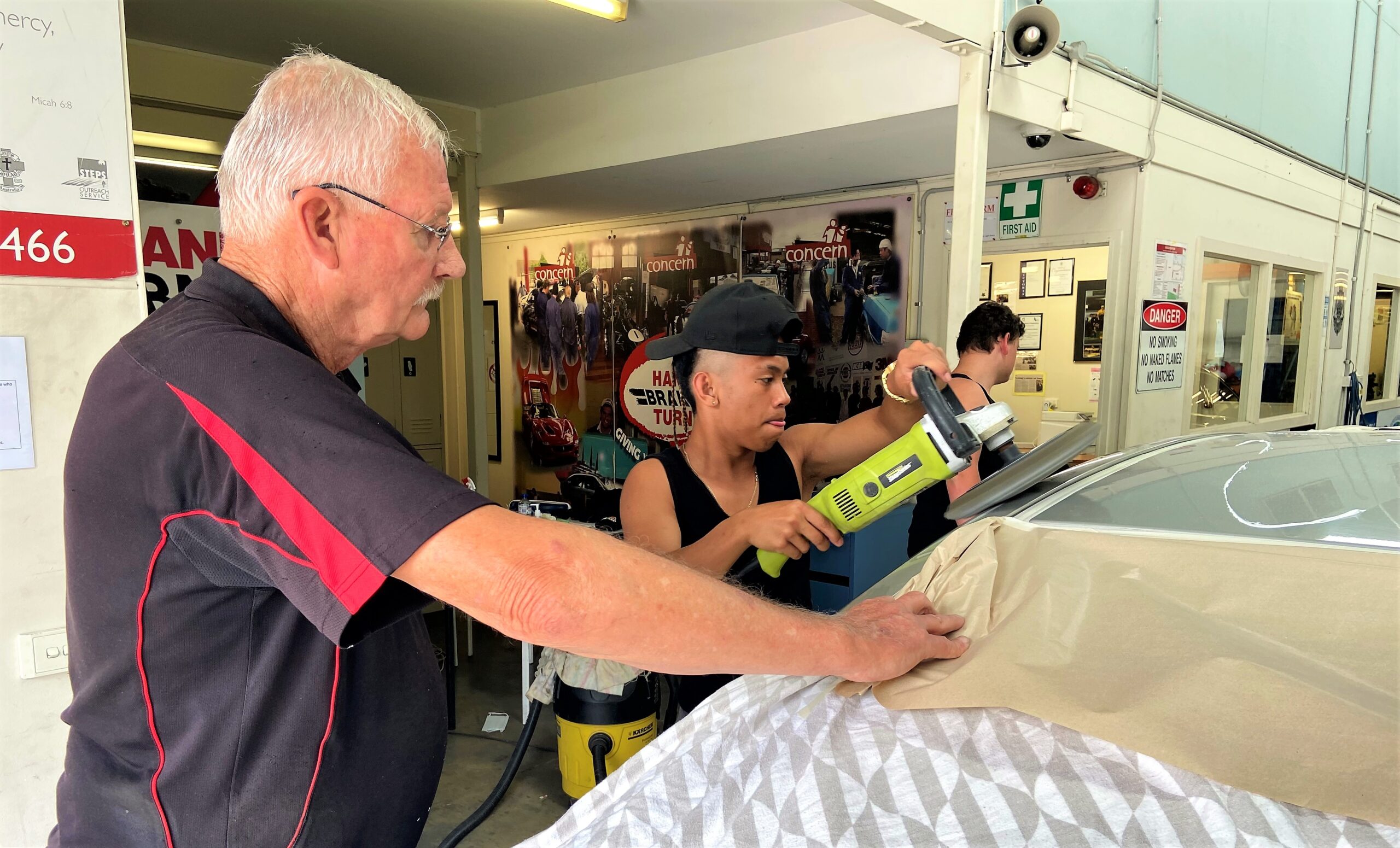 Hand Brake Turn trainer Phil Bloy watches as a student develops new skills polishing a car. 
The New Year began with the first outing for our latest Hand Brake Turn venture – a 1-week Taster course in automotive skills.
This new addition to the Hand Brake Turn training suite is designed to give young people a relaxed and fun introduction to automotive skills, and to consider whether the full 5-week course might be the right choice for them. It's open to all young people with or without interest in mechanics.
The Taster course will be scheduled for school holidays to make it as easy as possible for young people to try it out and explore whether they'd like to move on to the full 5-week course.
The first Taster course, held from January 11 to 14, was a great success. Four students took part at our Dandenong site and five at our Braybrook site. Of the nine students, we had seven young men and two young women.
Along with getting their hands dirty learning the basics of automotive mechanics, car maintenance and detailing in our workshops, students also took part in combined group tours of car wrecking yards and mechanic shops.
The young people clearly liked the experience – 70% of them enrolled in the full 5-week program that began on January 18.
"We know that there could be young people out there who are searching for their life path, and haven't considered that a career in automotive mechanics could be for them," said Hand Brake Turn Business Development Administrator Jonathan Sugumar. "This new 1-week taster course gives young people an opportunity to try things out, and maybe discover a direction that is new and exciting for them."
The next 1-week course runs from 12-15 April. To find out more, contact Jonathan on jonathan.sugumar@concernaustralia.org.au or 0406 456 599.
The next full 5-week Hand Brake Turn course runs from 1-31 March.
Share This Story, Choose Your Platform!