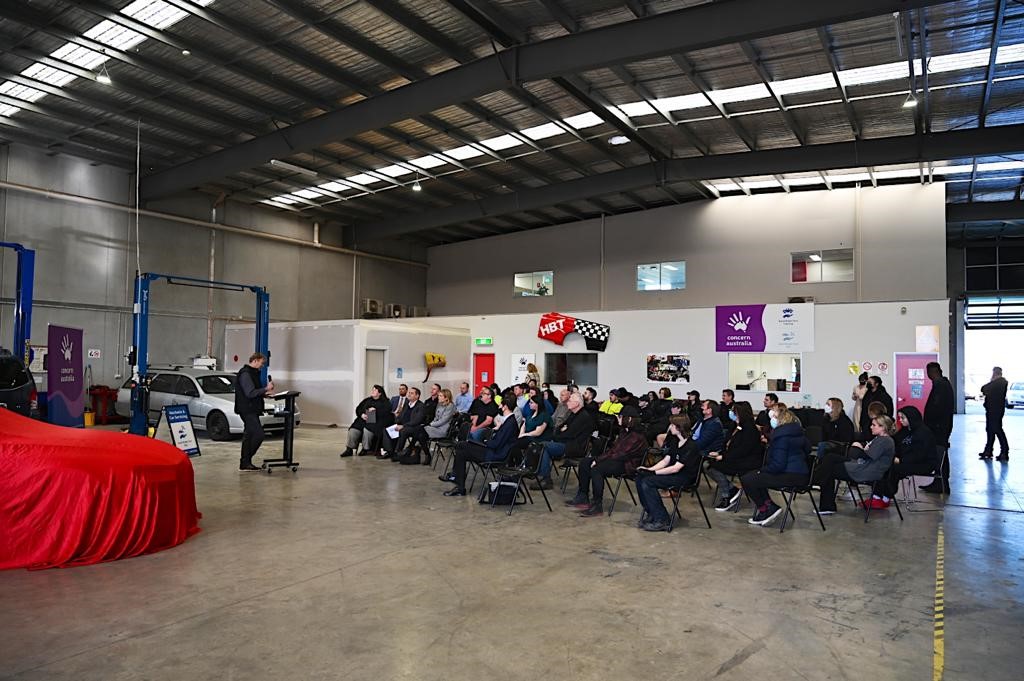 On Wednesday 20th of July, Concern Australia celebrated the official launch of our Social Enterprise 'fiXit' in our new Sunshine West workshop.
The event was a hit, and our guests were able to witness first-hand the positive impact that fiXit and our Hand Brake Turn program have in the lives of young people.
"Coming together is a beginning, staying together is progress, and working together is success." – Henry Ford
In order to extend Concern Australia's services in providing hope to young people, we embarked on a journey of establishing a Social Enterprise to complement the work of our Hand Brake Turn program. After a 12-month pilot – generously funded by the William Buckland Foundation – and thanks to the kindness of members of the public that have donated old cars for the team to restore and 'flip', we have found great success in providing meaningful employment to young people.
Foundational partners, generous donors, supporters, program graduates, proud parents and staff braved the cold winter afternoon to gather together to celebrate the achievements and progress that fiXit has made during it's 12-month pilot, and recognise the milestone of it's official launch.
Muscle cars, old models and racing cars were on display for all to enjoy. However, Hand Brake Turn graduate and fiXit employee, Connor, was an undeniable highlight of the afternoon with his moving testimony of how Concern Australia has assisted him in paving promising pathways of opportunity for his future.
"fiXit was born out of seeing a need to provide a further pathway for young people that are interested or in need of the opportunity to build on the skills learnt while participating in Hand Brake Turn."

– Michael Ponchard | Social Enterprise Coordinator, Concern Australia
Audi Investing in the Future of Young Automotive Professionals
Kal Hassoun, Audi Foundation Board Member and Director of Audi Centre Doncaster, left the audience speechless after unveiling a beautiful Audi A7 Sportback that will prepare current and future fiXit employees for servicing electric cars.
With it's advanced technology, this vehicle is the epitome of sustainability and modern automotive design, and will provide young people with the opportunity to develop diverse and meaningful skills in the innovative landscape of automotive.
This generous donation will ensure fiXit employees are job-ready and confident to step into the workforce after their traineeship.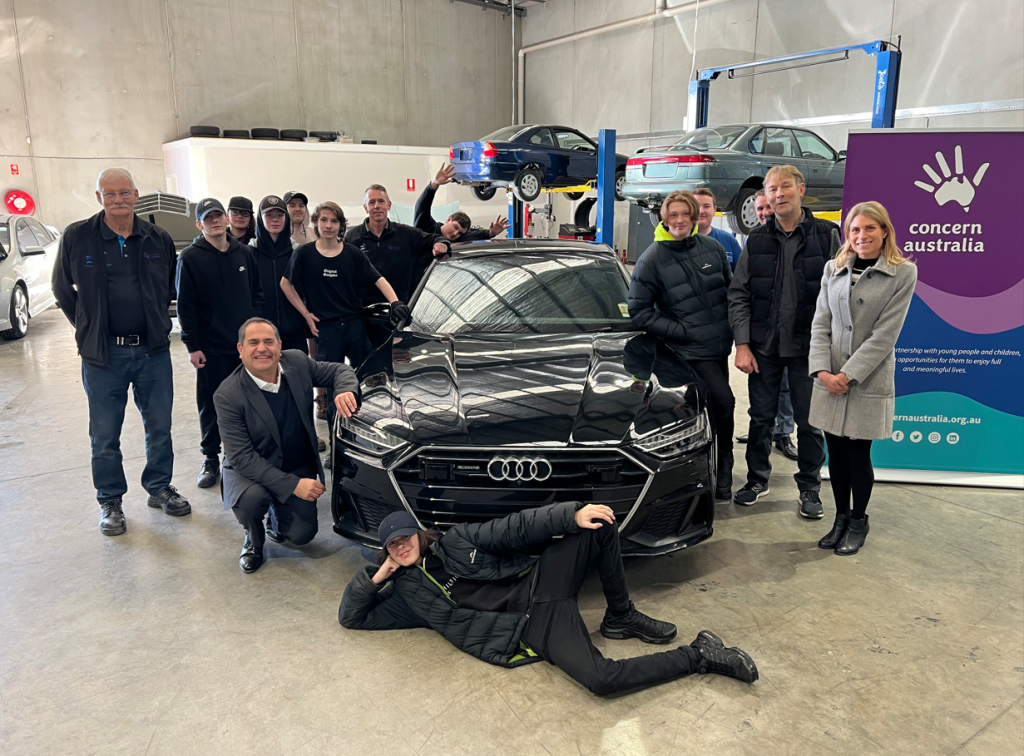 "Education is one of our supporting pillars at the Audi Foundation. When we heard about fiXit, we thought that there was no better way to help students with hands-on learning."

– Hayley Nissim | Head of Audi Foundation
Fostering Meaningful Automotive Partnerships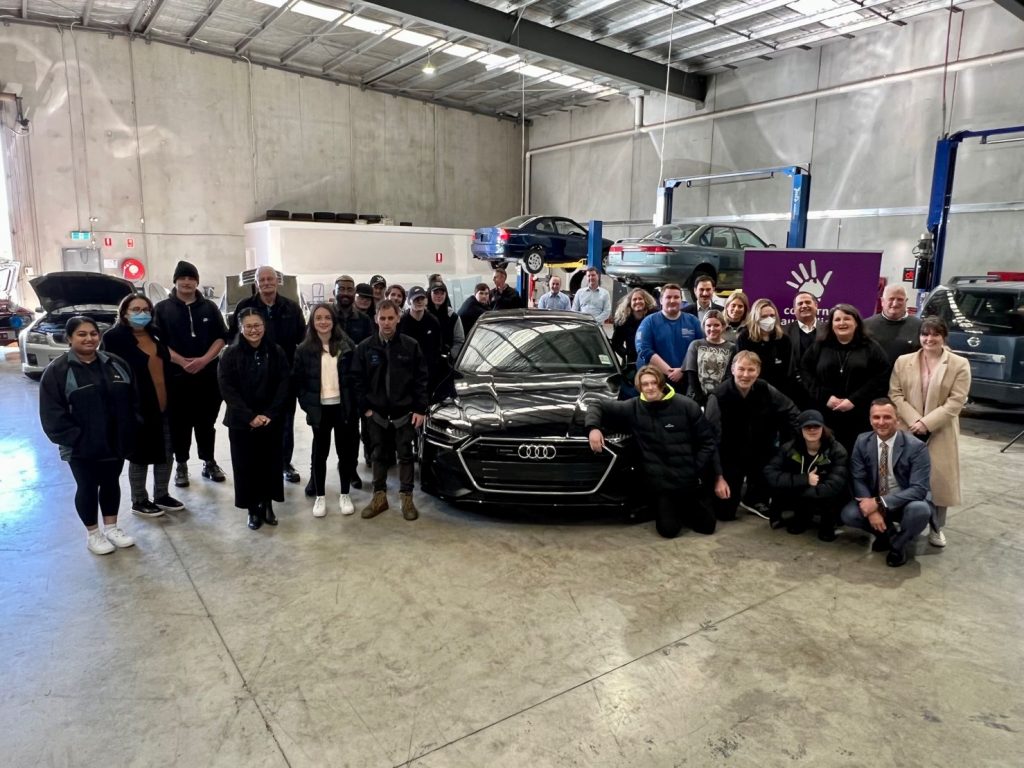 We were delighted to have a few Concern Australia's partners attend the launch to celebrate with us, including Gandel Metals, Audi Foundation, and Bosch.
Angelo Di Lizio, Bosch Car Service National Franchise and Operational Manager highlighted the importance of the partnership between Concern Australia and Bosch.
Mr Di Lizio explained that our partnership can provide Hand Brake Turn graduates and fiXit employees with a unique opportunity for further training to explore the next stage of their automotive career through placements available with Bosch Car Service.
We look forward to continuing these meaningful partnerships, and are incredibly grateful for both those that were able to join us and those that were unable to make it.
To conclude the ceremony, Concern Australia Board Chair, Jon Ma, announced that fiXit had officially launched and that the social enterprise can now 'start it's engines'. This was the precise moment that the engines of all cars within the workshop were started, releasing an echoing and thrilling rumble… the most fitting beginning to mark this significant moment.
A special congratulations to the Concern Australia, Hand Brake Turn and fiXit team for reaching this milestone! We look forward to continuing to witness the impact that we are able to make in the lives of young people through our work.
Share This Story, Choose Your Platform!