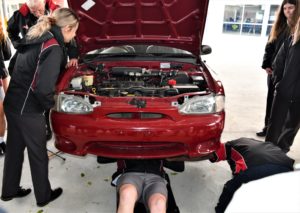 Our new Hand Brake Turn Mobile (HBTM) program took centre stage at Sunbury College in early December, with students practising their new automotive skills on our training car in the middle of the school grounds.
The Hand Brake Turn (HBT) team spent the day with 24 Victorian Certificate of Applied Learning (VCAL) students, giving them a taster on the basics of automotive knowledge and car maintenance.
Sunbury College Assistant Principal Craig O'Bree said he wanted to give all the VCAL students an opportunity to learn automotive skills from Hand Brake Turn.
"In the past a couple of Sunbury students have participated in the pre-vocational Hand Brake Turn course at the Braybrook site," Mr O'Bree said. "Those students had a really positive experience and it's helped one of them go on to a career as a mechanic. I wanted to explore providing the learning opportunity for the whole VCAL class."
Mr O'Bree said HBTM was a valuable complement for the Learn to Drive program already in place at the school, and for the needs of the VCAL students.
"Our Learn to Drive program is run in partnership with the local council, and community volunteers take students for driving lessons. It's fantastic for a number of students, as not all parents have a car, and some families don't have the time to give their children driving lessons," Mr O'Bree said.
"Hand Brake Turn Mobile is a good introduction to the wider Learn to Drive class. We are always looking for opportunities to provide our VCAL students with hands-on learning opportunities. I felt that Hand Brake Turn had a good combination of practical skills and knowledge development, but also personal development for the students."
The day was broken into two workshops, each with a period of classroom learning, and then practical, hands-on work on the training car. The workshops covered basic vehicle maintenance, and then tools and how to use them appropriately and effectively.
Mr O'Bree said the location of the training car was very deliberate.
"We set up the car in the middle of our school," he said. "It gave Hand Brake Turn a prominent location within the school, and enabled the rest of the students to see the VCAL students in action."
The outcomes of the day were significant for the students, Mr O'Bree said.
"They would have increased confidence with basic automotive skills, including changing a tyre, which will give them confidence in starting and participating in driving lessons.
"The students thought it was a good change from what they do within the classroom. It enabled them to have a really hands-on day that was very relevant to them, and what their interests are. It provided them with skills and knowledge that they can use straight away, and life skills into the future."
The students, a mixture of male and female, enjoyed the opportunity to learn and practice on the car. Comments from students included:
"They made it fun to learn everything."
"It was just a great experience."
"They were amazing, kept us all on task."
"I am a hands-on learner so I found it useful showing, rather than telling."
"They were not judgmental towards silly questions."
Mr O'Bree said he would recommend that other schools take the opportunity to provide HBTM workshops to their students.
"From my perspective, the organisation is easy to deal with. The staff are very helpful and responsive," he said. "As an organisation they have improving lives of young people at the heart of what they do. I think it's really positive."
Hand Brake Turn currently has funding to take the Mobile program to schools in Melbourne's south-east. Contact HBT Business Development Administrator Jonathan Sugumar to discuss the opportunities: jonathan.sugumar@concernaustralia.org.au, 0406 456 599.
We want to take the Hand Brake Turn Mobile program into more schools, but many are restricted by cost. Please donate to support us to take the Mobile program into schools and reach more students who are interested in an automotive career. Make a donation now.
Share This Story, Choose Your Platform!