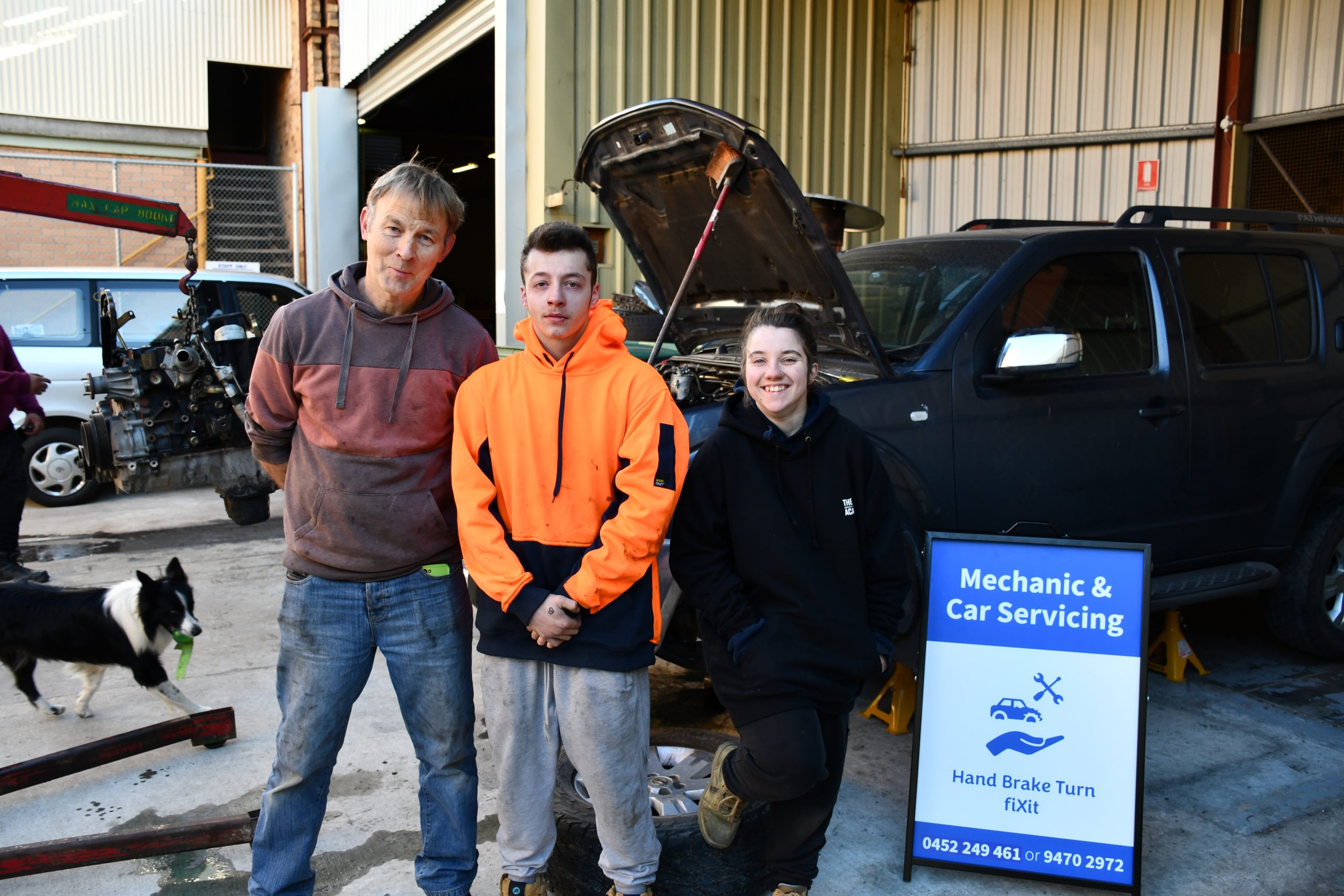 One of the most exciting developments in the Concern Australia story that has happened recently has been the appointment of Hand Brake Turn graduates into fiXit, our social enterprise.
AJ and Noah have joined our Hand Brake Turn team as trainee mechanics on a three-month paid placement.
They will work alongside Hand Brake Turn staff two days a week fixing up donated cars that are then sold or gifted to members of the community who are in need, along with servicing cars for Concern Australia staff, community partners and members of the public.
These short-term placements give young people who have completed the initial Hand Brake Turn five-week course the opportunity to gain practical paid work experience, and learn the commitment and responsibility required to get to work regularly.
Noah, 18, graduated from Hand Brake Turn earlier this year. He's travelling from Melton to our Braybrook site two days a week to make the most of the chance he's been given.
Noah has faced some big challenges getting to this point. Each of his parents passed away over recent years, which then impacted his housing, including periods of time spent living with his nan and friends.

"I had to move a lot over the past few years, so it has been hard to get in a full year of school," Noah said. "It was stressful, and school wasn't my thing, so that's why I've moved towards hands-on stuff."
Noah found out about the Hand Brake Turn course through his school's year level coordinator, who helped him to explore the options that could be best for him.
"I didn't know what I wanted to do. They gave me some options, including Hand Brake Turn, so I thought I'd give it a shot," he said.
"Before getting my own car, I wasn't too sure I'd be interested. After getting my car, a 2004 Commodore, I wanted to do it more and learn the ins and outs.
"Now I want to start an apprenticeship and be a mechanic, and then see what happens."
"The Hand Brake Turn course was really good, and this work with fiXit means a lot. It gives me a lot of experience before I try for an apprenticeship.

"The crew are all really nice, and they make sure you understand what you're doing. They will help me with my CV and looking for an apprenticeship too."
AJ, 17, hits the buses for more than an hour each way from Melbourne's inner north-west to Braybrook two days a week.
But she knows it's worth it after doing the Hand Brake Turn course in 2020 showed her just how much working on cars interests her.
"I knew I was into mechanics, I always loved fixing cars with my dad," she said. "I just love fiddling with cars and fixing them, I'm a hands-on person.
"For me, school was easy, but I hated it and didn't want to do it. It wasn't hands-on, just paper-based.
"I normally get a no from people when I ask about being able to do practical things, so I was used to rejection. I didn't even know they had courses like Hand Brake Turn, so when my youth worker told me about it, I did it, and then I wanted to continue. I put energy into it because it's a real interest."
AJ is currently balancing her work for fiXit with finishing year 11. She's really enjoying the work, and when she finishes her fiXit contract, she's hoping to find an apprenticeship.
"It's really fun and interesting," she said. "We're doing different things on every car. I found out that taking a transmission out was pretty challenging, but it was fun!"
fiXit's Manager, Michael Ponchard, said the short-term contracts will be an important next step in the career path for Hand Brake Turn graduates like AJ and Noah.
"We'd previously had another brilliant HBT graduate employed in fiXit, but he was only with us for a short period before he was offered a full-time job elsewhere. He's now got a full time job in the construction sector which is a dream come true for him. These are the outcomes for the young people we work with that we are after."
"It will give them some hands-on experience, and help them develop some life skills, a sense of purpose, and the experience of getting up, going to work, being reliable, and working professionally," he said.
"Learning how to sustain a commitment to a job, and trouble-shoot the challenges they encounter, will all be part of it.
"All of us at Hand Brake Turn will also be helping each of them with CVs and connections for future work opportunities."
The plan for the future is to regularly take on Hand Brake Turn graduates as short-term employees with fiXit both at the Braybrook site and our Dandenong site too.
We're excited to see the impact for young people and how it kick-starts a career and brighter future.
You can support AJ and Noah and other Hand Brake Turn students as they build their career path by:
Find out more about the our social enterprise fiXit here and even book your car in for a service!
Share This Story, Choose Your Platform!