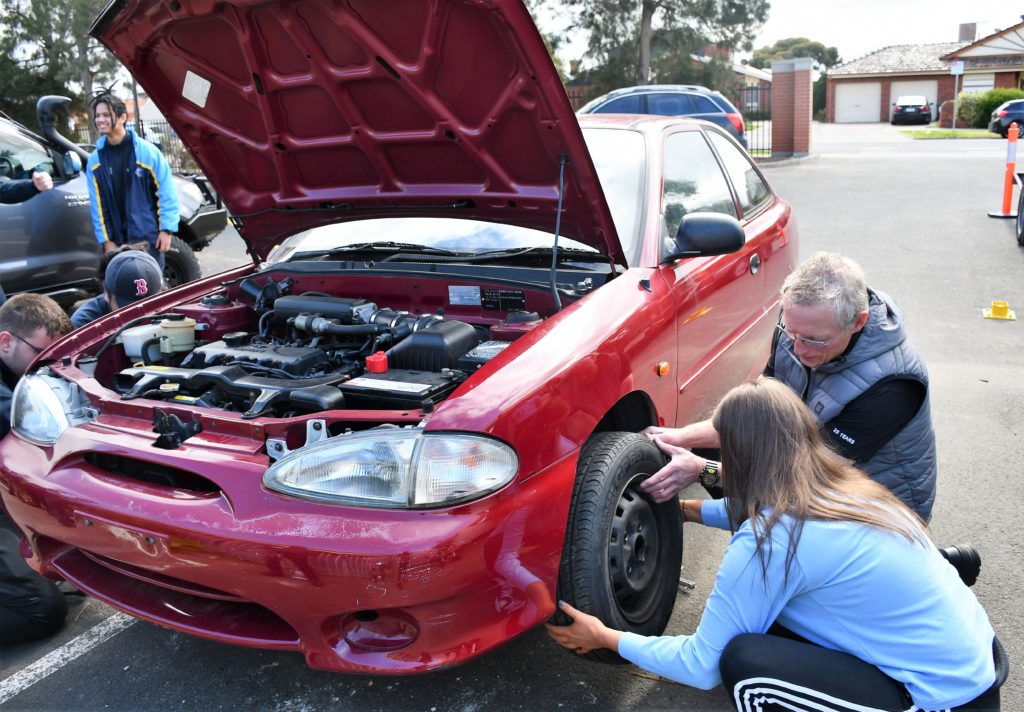 Pictured: Hand Brake Turn Program Manager Ian Dubbeld instructs a student on changing a tyre.
Hand Brake Turn has been providing hands-on automotive training and vocational mentoring for more than 25 years, and we continue to look for innovative ways to reach young people and give them the opportunity to discover a passion for working on vehicles.
Recently we visited Taylors Lakes Secondary College for a successful pilot of our latest venture, Hand Brake Turn Mobile, an approach that allows us to take the training program out of the workshop and into schools and community organisations.
The aim is to give young people some basic skills for when they get their first car, along with a taste of what it means to work on vehicles. Some of these young people may then choose to join the main Hand Brake Turn program as an entry point into a career path.
At Taylors Lakes, our Hand Brake Turn Mobile team ran sessions for two year 12 VCAL class groups on basic automotive and mechanic skills and tool use, including practical, hands-on time working on a dedicated car that the team brings to the site on a trailer.
Hand Brake Turn Program Manager Ian Dubbeld said he was pleased with the students' response.
"It was a good first outing," said Ian. "It was great coming in with the car on the trailer, and having a dedicated area where we could put it and work on it with the students. They thought it was fantastic having an actual car there that they could work on."
About 40 students took part across the two classes of 90-minutes each. Each Hand Brake Turn Mobile session is split between time for classroom-based learning, and then time getting hands dirty practising the basics of car maintenance.
View a gallery of images on the Hand Brake Turn Facebook page. 
The classroom learning includes presentations on identifying, using and maintaining tools, along with education about basic vehicle maintenance such as tyre pressure, checking and changing engine oil and other fluids, checking and changing light bulbs, changing a tyre and jump-starting a car.
The students, a mix of young men and women, were positive about their experience. Comments included:
"It's a great experience to learn about cars."
"I learnt a lot, and enjoyed learning about the basics of fixing cars."
"It's a good program for people who don't know anything about cars."
"I enjoyed all of it. You guys are great."
The teachers were also positive about the sessions. One teacher emphasized to the students: "This is really important. Next time you're stuck on the side of the road with a flat tyre, remember what you've learnt."
Another teacher said: "This is the basic stuff that everyone needs to know about a car."
The Hand Brake Turn team will continue to refine and develop the Hand Brake Turn Mobile approach over the remainder of the year.
"We're aiming to do a few more pilots this year," said Ian. "We're looking for schools, community groups and other organisations that would be interested in us coming and teaching their young people."
If you would like a Hand Brake Turn Mobile pilot visit for your school or group, contact:
A big thanks to Taylors Lakes Secondary College for partnering with us to get this program up and running!
Share This Story, Choose Your Platform!