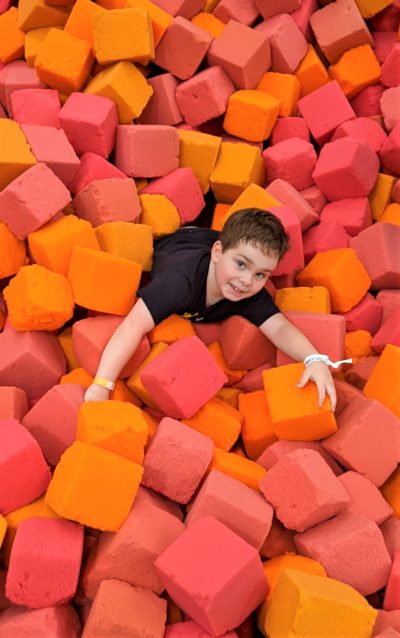 Each year the children from the Collingwood Public Housing Estate look forward to the LiveWires Summer Holiday program, and this year was no exception.
Poor air quality caused by smoke from the bushfires meant we had to cancel the family day trip to the FunFields Theme Park, but the disappointment didn't diminish the energy the children brought to the rest of the holiday activities that were run in partnership with St Vincent de Paul.
Strike bowling and laser tag
In the first week of the holidays we took 27 children from the Collingwood and Richmond Housing Estates to Melbourne Central's Strike for laser tag and 10-pin bowling.
The children played in teams of five and tested their bowling skills. There were many smiling faces as we left to wander through Melbourne's streets to Carlton Gardens for a picnic lunch under the trees.
We had delicious sandwiches provided by Vinnies, scrumptious cakes and oat slices made and gifted from FareShare, and plenty of fruit. When everyone had refuelled, the children played on the large outdoor playground until it was time to head back to Collingwood Neighbourhood House to be picked up by their families.
Jump, climb, Ninja!
In the final week of the school holidays we took 24 children to Heidelberg to bounce, fly and climb at Latitude – a large indoor park with trampolines, rock climbing, and obstacle and Ninja Warrior courses.
For two very full hours the children were engaged in physical, energetic, fun activities, including groups of children competing in the Ninja Warrior course.
Children raced up high rock climbing walls, climbed beams to jump from great heights, and worked out how to make their way up difficult and sparse rock climbing walls. Many flew up the walls and abseiled back down as though it was something they did every day.
There was dodgeball, lots of trampolining and jumping into giant foam pits, while others were on high wire obstacle courses manoeuvring above. The children had a wonderful time at Latitude and were sad to leave when the time ended.
We headed over to Malahang Reserve for lunch and a rest, and those who had the energy played on the twin swings having races, swung on the large round swing, or climbed the rope pyramid.
After all that activity, it wasn't surprising that we had a busload of happy but sleepy children on the ride home.
A big thank you to the City of Yarra for funding the LiveWires Summer Holiday Program
Now that school is returning, we're gearing up for our regular after-school care program on Tuesdays and Wednesdays at the Collingwood Public Housing Estate.
Share This Story, Choose Your Platform!