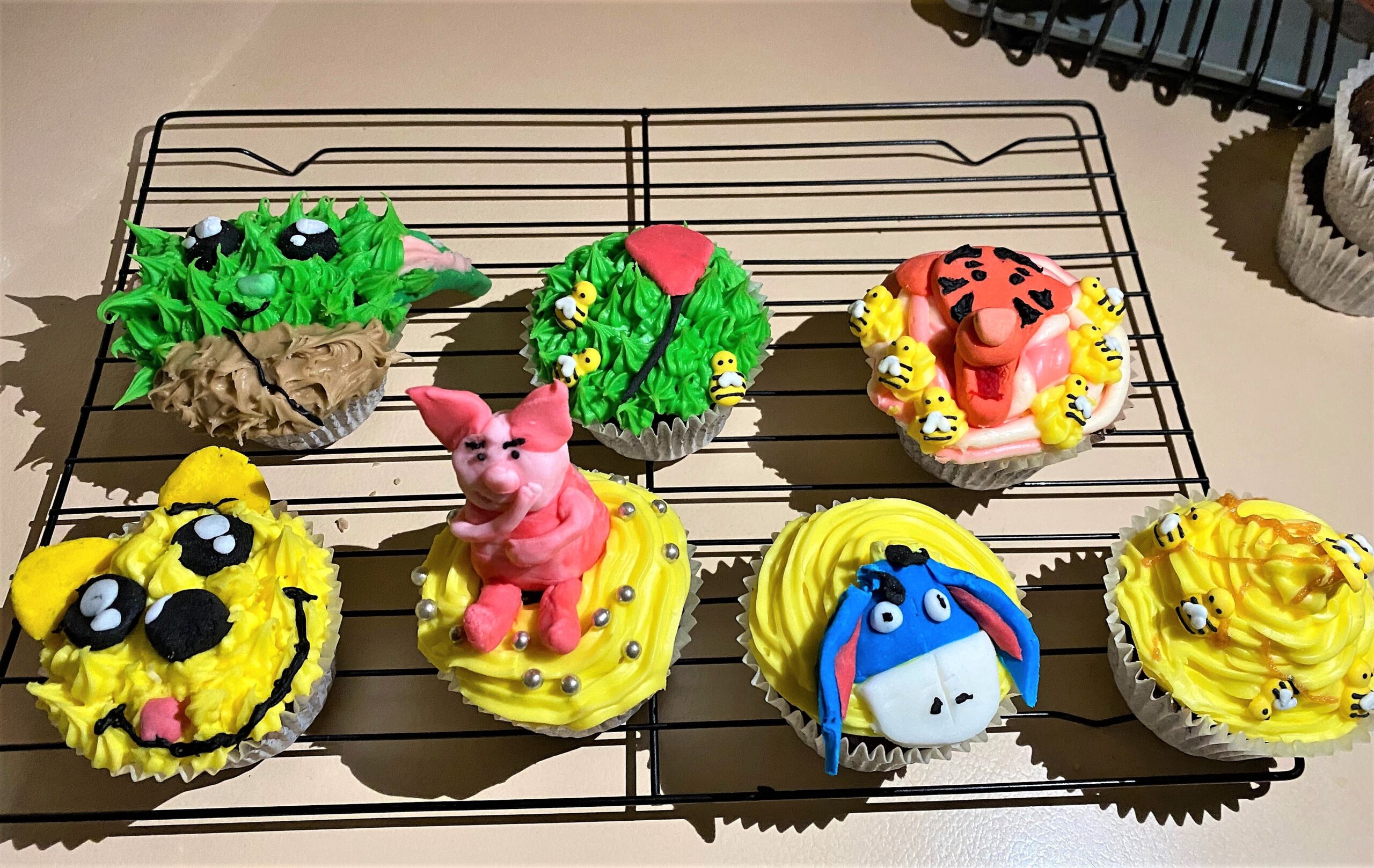 Pictured: The winning creations in the Inside Out Cupcake Challenge.
As Victoria moves into six weeks of stage 4 lockdown, we're adapting daily to ensure that the most vulnerable young people in our community get the support that they need in the safest possible way, particularly through our Steps Outreach Service and Inside Out programs.
We know it's difficult for everyone, but our teams are rising to the challenge.
Here's a brief update on where things are at for each of our programs.
---
Steps Outreach Service
The support that the team provides to young people experiencing homelessness and insecure housing is defined as essential care. They are busier than ever, providing safe delivery of necessities including groceries, hygiene products and facemasks, along with offering moral and emotional support in person (outdoors with appropriate physical distancing) and through connecting remotely when the young people have the right technology.
The need is great and it's increasing, but the Steps Outreach Team stays committed to supporting vulnerable young people through this difficult time, and into whatever the future holds.
---
Inside Out
Support that our Youth Workers provide to young people living in our Inside Out houses is defined as essential care. They continue to support the young people appropriately depending on the situation.
Many of the young people and live-in mentors in our Inside Out houses are feeling frustrated and are struggling with being cooped up and not being able to get out and about and see friends. These young people were already vulnerable. The current lockdowns are affecting their mental health, some more than others.
We support young people in our Inside Out properties remotely via the internet and phone, as well as delivering care packages to young people and live-in mentors in our homes. These include basic needs such as groceries and other essentials, facemasks and personal hygiene products.
In some circumstances support needs to be provided in-person, but this is always done according to Government safety regulations, including physical distancing, facemasks, use of sanitizer and so on.
This in-person support can include accompanying a vulnerable young person to go shopping or attend a medical appointment. It can also be as simple as going for a walk with a young person who is struggling with their mental and emotional health.
But our team are also making sure that they find out the interests of each young person and what we could provide to make this time a little easier for them such as Lego, board games, art and video games. In this way, our support continues to be tailored to each individual's unique situation, personality and needs.
In each of our homes, the young people still have the option of doing their own grocery shopping within the limitations of Government regulations, and we are there to help them do this too. It's been great to see some of these young people managing new tasks and activities during this time, such as buying groceries online, a testament to their resilience and ability to better manage their lives, including their mental health and wellbeing.
Since the outbreak we've been running cool challenges for the households to keep them engaged and positive. The first round of challenges was a great success, with the winner receiving a $500 clothing gift voucher, the second place a voucher for $250, and third place a voucher for $150.
The second round of challenges commenced recently with a cupcake baking challenge. You can see how fab the results were in the main photo (the winner), and just above (the runner-up). Up next is a facemask decoration challenge, followed soon with clay modelling and a spoken word/rap challenge. We can't wait to share the results with you so remember to follow our social media accounts where we will post regularly to keep our supporters in the loop.
---
Hand Brake Turn
Classes
Stage 4 lockdowns means that classes for young people remain closed.
Our staff are in regular contact with enrolled students, by phone and by email, encouraging the students and providing links to online content. Providing fun and informative content has allowed us to keep them engaged with learning about mechanics and vehicles, and enthusiastic for when they are able to come to in-person classes.
We look forward to in-person classes when the State Government moves the community back to Stage 2 restrictions.
Any young person who is interested in doing the Hand Brake Turn course should make contact now, and we'll stay in touch. We are doing a lot of work in the background to make that easier too. Contact Jonathan Sugumar on jonathan.sugumar@concernaustralia.org.au or 0406 456 599.
Car servicing and sales/donations
Our fiXit social business, which services cars for members of the public and fixes and services donated cars that we on-gift for community good, remains open during Stage 4 lockdown. It's a fantastic way of supporting the program in these uncertain times.
To book your car for a service at our Dandenong or Braybrook sites, use our online form and a Hand Brake Turn team member will contact you to confirm your booking. Book in to get your car serviced here.
If you have a vehicle you would like to donate, we can plan ahead to pick it up when restrictions ease. To donate a car, or if you know someone who might need one, contact Josh Niclair on joshua.niclair@concernaustralia.org.au or 0449 195 359 and we'll see what we can do!
---
Values for Life
Our Values for Life team continues to use this time to review and update the content of all our presentations to ensure that when they can return to schools they can provide the best support possible to help students process the impact of this extended pandemic and the many other challenges of growing up. We know there is a lot of anxiety amongst students across Victoria right now and the team are prioritising delivering wellbeing and resilience seminars across the country. These seminars resonate, and are welcomed by school principals and wellbeing coordinators, doing everything they can to support their students during such unprecedented challenges.
---
Chaplaincy
Our chaplains usually provide regular support to the young men who are in the Malmsbury Youth Justice Centre. Evidence has shown that prison populations are vulnerable to the COVID-19 virus. When an officer working at a Melbourne jail tested positive for COVID-19, the Justice Department took the precautionary measure of locking down six Victorian prisons, including Malmsbury. This means that our chaplains are currently unable to visit, and they are eagerly waiting for when they can return to provide support to the young men, who are understandably needing support now more than ever.
Share This Story, Choose Your Platform!