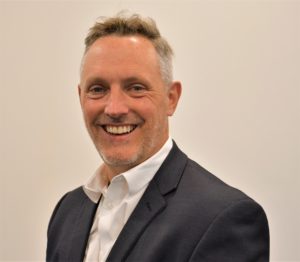 We were delighted to welcome Geoff Manton to the Concern Australia family in February in the newly-created role of General Manager Education, Enterprise and Innovation.
As part of the Executive Team, Geoff's role will include growing the life-changing work of our education programs, Hand Brake Turn and Values for Life.
Geoff brings with him more than 30 years of experience working for social change, with a particular focus on services for the deaf community.
"I grew up in Melbourne's inner east, and have always been a part of churches. As a young adult I was involved in leading youth activities, and spent two years as a part-time youth minister at St John's Camberwell," Geoff said.
"I had also worked part-time at Yooralla for eight years, and I realised that I loved working in the disability sector.
"I reached a point where I had to choose between youth ministry and a professional career.
"I felt that my calling was in the disability sector rather than ministry, so I started my journey down that path with a Bachelor of Arts in Disability studies."
Over the next 30 years Geoff ran programs for the deaf community across the nation, including community outreach support, employment programs, early intervention, information outreach to parents, interpretation services and more.
Before joining Concern Australia, Geoff was CEO of Northern Support Services for three years, where he led the organisation's transition to the new National Disability Insurance Scheme (NDIS) in the north-eastern metropolitan area.
Geoff lives in Ballarat with his wife and three teenage children, where they are surrounded by a strong church community and extended family. He enjoys time in the bush and being close to nature, camping by himself or with his family. "It's my happy place," he said. "There's nothing better than going out on a long bushwalk.
"I also love interacting with the deaf community. That's a part of my life that will be with me forever, and I enjoy teaching my children Auslan (the sign language of the Australian deaf community).
"I love creating a nurturing and supportive family environment. A large part of my life outside of work is being dad's taxi on the weekend – my children are involved in a range of sporting and music activities."
Joining Concern Australia brings Geoff's career full circle into a role in which he can use all of his skills and experiences to focus on children and young people.
"This is a very exciting time to be joining the organisation," he said. "Much of my career has been about growing services, entering new markets and growing new programs that are sustainable and make a difference.
"This new role gives me an opportunity to unleash my creativity and magnify the impact that Concern Australia is already having for vulnerable children and young people. I love being able to look at things in a new way, but in a realistic way, that can contribute to social justice and growth."
Geoff said his experiences with his own children will inform his role at Concern Australia.
"Being a dad of teenagers makes you much more aware of the challenges that kids are facing," Geoff said. "It's a tough world out there. Not all kids get the same go at life. Similar to the experiences of people with disabilities, people are often born into a situation they have no control over, and it impacts their whole life.
"The challenge for me is to constantly ask the question: How does my role, and our work together at Concern Australia, give children and young people the same dignity that I worked to offer to people with disabilities? How do we give them the best access to the best options that can be made available to them – even when they don't make good decisions?"
Running employment programs for the deaf community gave Geoff an insight into responses that empower people, and he will bring these insights into his work with Concern Australia, particularly in terms of the opportunities that Hand Brake Turn can offer for career pathways.
"I could clearly see that economic independence gave people control over their lives and ability to make their own choices, and the best vehicle for that was a job," he said. "Not tokenistic employment, but real work, jobs that we are all entitled to do. To achieve that, a whole heap of barriers need to be removed. But when that happens, it makes a huge difference and people thrive.
"Throughout my career, my motivation has been to work towards a society in which everyone has a fair go."
"I'm looking forward to working alongside my Concern Australia colleagues, and with our supporters and partners, to continue to do that for the children and young people who come into our care."
Share This Story, Choose Your Platform!