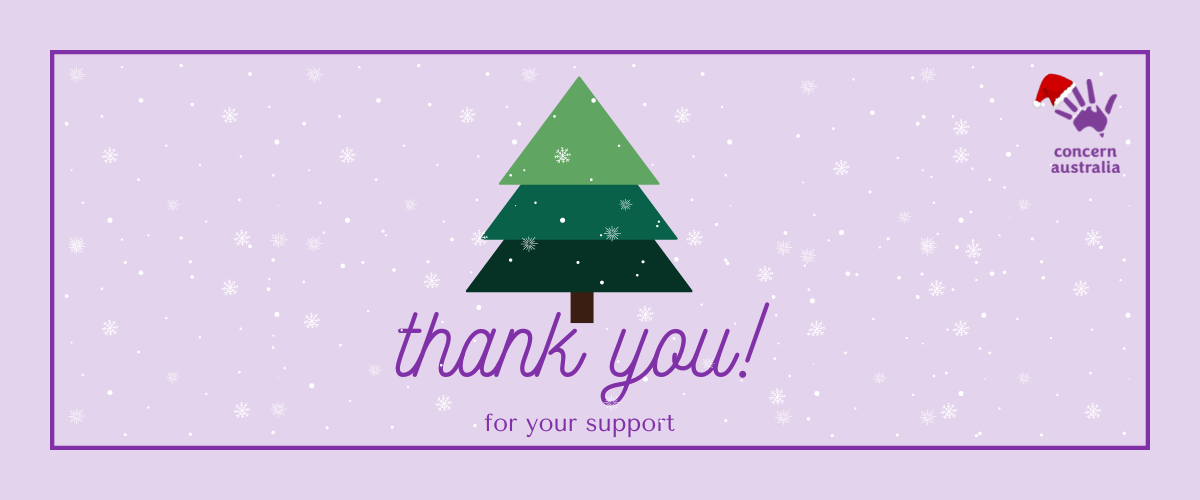 As we quickly approach Christmas, we would like to take this opportunity to recognise the valuable support of our partners and reflect on what has been achieved this year. Our partners contribution and ongoing commitment have assisted us in making a positive impact in the lives of young people experiencing hardship.
January:
Bosch, the world's largest suppliers of automotive components, and Concern Australia establish a meaningful partnership. Together with Bosch, we have embarked on a collaboration focussed on providing Hand Brake Turn Graduates and fiXit employees with a unique opportunity for further training to explore the next stage of their automotive career through placements at Bosch Car Service. This is an incredible opportunity that will help secure employment opportunities for the young people in our care.
February:
We started the year with the incredible announcement that The Flora & Frank Leith Trust had awarded our team a grant to support STEPS Outreach Service from January to December of 2022. Thank you to the Flora & Frank Leith Trust for this generous support.
Also in February, via the Crime Prevention Grant, the Department of Justice and Community Safety announced that Concern Australia would receive a grant to expand our Hand Brake Turn Program in the Northwest region. This funding has allowed us to further strengthen our ability to provide tailored support to more young people as they transition into education, training, apprenticeships, or employment.
May:
Rotary Club Central Melbourne have been supporting our mission – creating opportunities for at-risk and disadvantaged young people to enjoy meaningful lives – for more than 20 years. In 2022, Rotary Central Melbourne through The Bernie Gerlinger Hope for the Future Scholarships, provided funding to assist five disadvantaged young people to overcome barriers to educational success and achieve positive life outcomes. The scholarships provided financial support, complemented by mentoring from a STEPS youth worker.
May was also a significant month of grants. The Lord Mayor's Charitable Foundation and the Tan Family Trust both provided financial assistance for our STEPS Outreach Service. Additionally, we were delighted to receive funding through the Department of Jobs Precincts and Regions Social Enterprise Support Grant. This allowed our social enterprise, fiXit, to purchase a second-hand tilt truck to assist in transporting donated vehicles.
June:
CREWY (Creating Real Experiences with Youth) received funding from Western Region Aged Care to equip our participants with wonderful camping equipment. This will help us to keep providing fun excursions and activities for young people that would otherwise not have these experiences.
Also in June, Gospel Resources Limited provided the STEPS Outreach Service with generous funding, continuing their longstanding support of the work of Concern Australia and STEPS. We are incredibly grateful for this impactful relationship that Concern Australia has with Gospel Resources Limited.

July:
Concern Australia hosted the official launch of our social enterprise, fiXit, and received an incredible donation from the Audi Foundation… a beautiful Audi A7 Sportback. With its advanced technology, this vehicle is the epitome of sustainability and modern automotive design and will provide young people with the opportunity to develop diverse and meaningful skills in the innovative landscape of automotive. This generous donation provides a learning tool that enhances the experience of fiXit employees, ensuring they are job-ready and confident to step into the world of work.
August:
Igniting Change – a long standing partner of STEPS Outreach Service – provided funding to support the running of the program. Igniting Change is a passionate charity that sparks big, positive change for people doing it tough in our communities, and we have been proud to continue our partnership with them.
October:
The Department of Families, Fairness and Housing awarded our Values for Life program a 'Multicultural Communities' grant which will enable an increase in the delivery of Values for Life seminars in schools.
December:
Concern Australia joined some of the Oreta & Telstra Business Technology Centre (TBTC) Melbourne City team to put together Christmas hampers. Filled with essentials, sweet treats, toiletries, and even personal notes from the staff, these hampers will be gifted to the young people housed within our Inside Out program.
Also in the lead up to Christmas, our friends at TAL Insurance participated in workplace giving and a 'Tree of Joy' through Rotary Central Melbourne to raise money and provide Christmas gifts for the disadvantaged young people that STEPS Outreach Services connects with. We are incredibly grateful for TAL's generosity and heart for giving that we have witnessed this Christmas season. This kindness will have a significant impact in the lives of young people experiencing hardship.
We are also thankful to everyone who is donating to our Christmas appeal to support young people doing it tough. We feel that the goodwill of Christmas should not stop once the festivities have concluded, as young people continually need our support throughout the year. We invite you to donate to our Christmas appeal and consider becoming a constant companion by tapping here.
This year is almost over, but we hope that the spirit of giving and supporting others remains in all of us throughout 2023.
Wishing you a Merry Christmas and a Happy New Year.
We are grateful to all our partners that we have worked with in 2022. Whilst there are too many to elaborate on, we have made sure to list them all below. Thank you to each and every one of these organisations that have supported us in creating a positive change in the lives of disadvantaged young people.  
Albert Park Primary School
Anglicare
ARDOCH
Audi Foundation
Bennelong Foundation
Berry Street
Bosch
Brimbank City Council
Burke & Beyond
Chisholm
Dorman Family
Gandel Metals
God's Squad Australia
Good Shepherd Australia New Zealand
City of Greater Dandenong
Jackson School
Jobs Victoria
Joy Smith Foundation
Mambourin
Monash University
RMIT University
Rotary Club
SELLEN
Social Engine
Social Traders
Stott's College
Sunbury College
Swinburne University
The Cardinia Foundation
The Casey and Cardinia Foundation
The Catalyst Network
The Flora & Frank Leith Charitable Trust
The Gospel Project
The Jack Brockhoff Foundation
The Tan Family Trust
The William Buckland Foundation
Together Financial Services
Trades Women
Uniting
VACC
Victorian Department of Education and Training
Victorian Department of Families, Fairness and Housing
Victorian Department of Jobs, Precincts and Regions
Victorian Department of Justice and Community Safety
WCIG
White Box Enterprises
WRAC
Wyndham City Council
Youth Support Advocacy Service
Share This Story, Choose Your Platform!