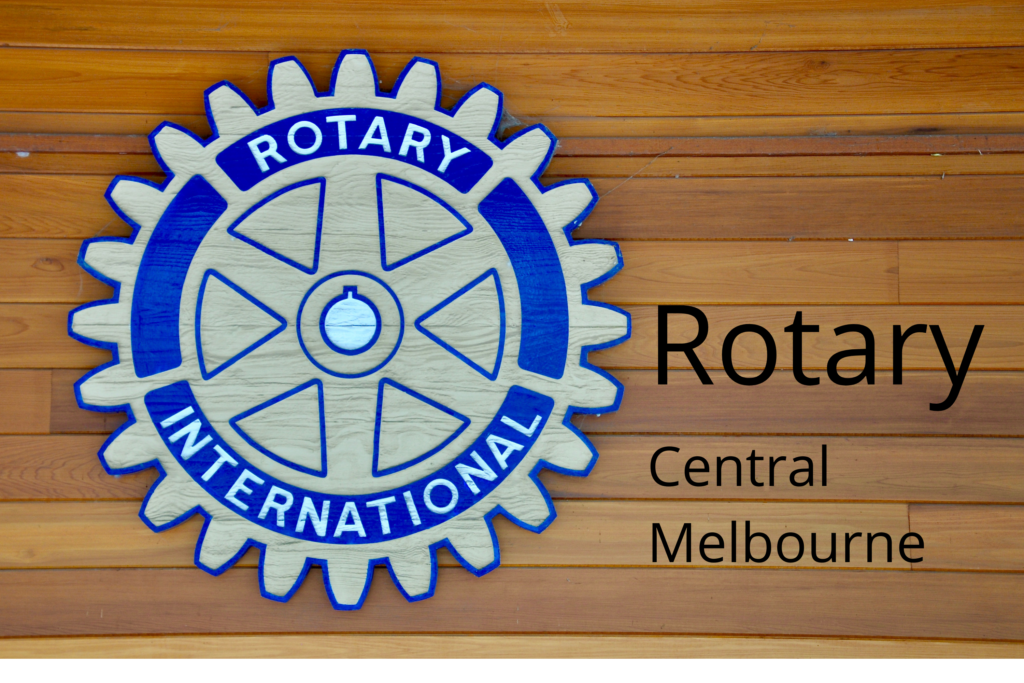 We're delighted that one of our Rotary partners has been recognised for working with us to make a difference for vulnerable children and young people.
Rotary Central Melbourne recently received a coveted District Youth Award for the Steps Outreach Service Hope for the Future Scholarship program.
The club is one of more than 70 clubs in Rotary District 9800, which stretches from metropolitan Melbourne all the way north through regional Victoria to Echuca-Moama.
Rohan Williams, the Director of Community Services for Rotary Central Melbourne, said clubs from across the District nominate projects for the awards, and their win recognised the importance of the Hope for the Future Scholarship partnership.
"When you see the sorts of projects being recognised, it's good to get that feedback and to have the program promoted across the clubs of the District. It may well spark an idea in another club to do something similar too," he said.
"The thing that stood out to the District organisers was the ability of the program to continue during COVID restrictions because the support for children could be tailored to the context.
"One story that stood out for me was from during the COVID lockdowns. A Steps Outreach Service case worker identified that a child was having trouble connecting to the internet for home learning. They worked with the school to find a solution, which is a very material and practical way of ensuring the child stayed engaged with their school activities.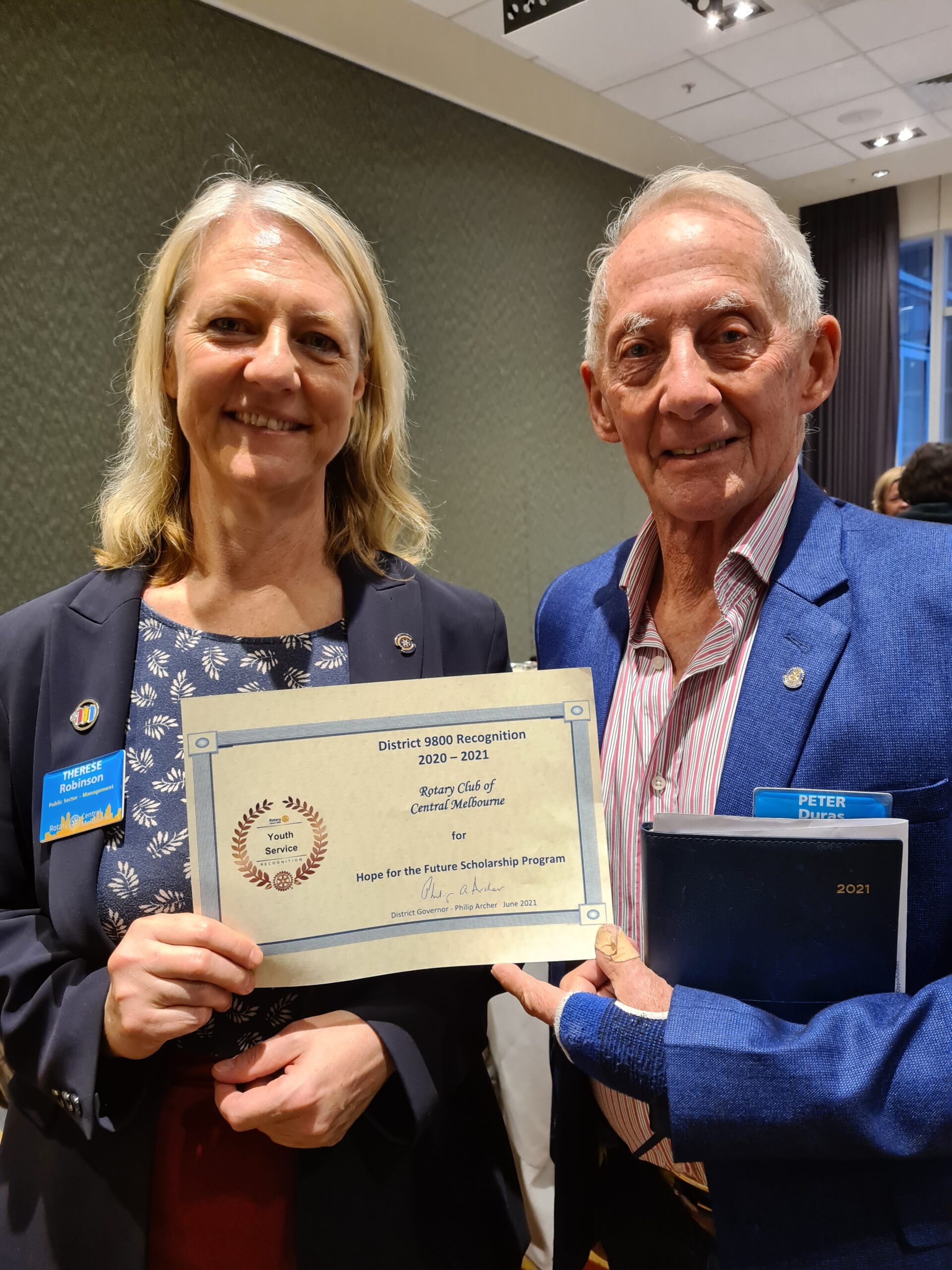 Rotary Central Melbourne President Therese Robinson (left) and Peter Duras from the Community Services Committee with the District Youth Award
"It would have been very easy for the child to withdraw from their education, but what would that have meant after lockdown? How far behind would they have been, and what would that have meant to the rest of their school experience?

"It's one small example of the positive, tangible impact the program can have."
Anne Mitchell, who leads the Steps Outreach team shared that The Hope for the Future Scholarship Program "is making a real difference in the lives of the disadvantaged children and young people who are supported. This support, which includes the support of a volunteer mentor, is empowering the children to stay connected to education and to have positive experiences and successes."
The Hope for the Future Scholarship program helps school-aged vulnerable and disadvantaged children and young people to continue pursuing their dreams, stay connected to education and overcome the challenges that they face. Often these children have experienced homelessness and family violence.
A scholarship can be life-changing for a young person and their family. Knowing that someone cares enough to provide funds for their education or to help them participate in their community through an activity they love can be a real game changer.
"It's a really important investment in young people's lives and a proactive way that Rotary Central Melbourne and Concern Australia are working with young people to keep them engaged in school so that they have a greater number of opportunities in their lives than if they were to withdraw at an earlier stage.

"It really is a commitment to the truth that education is the ladder of opportunity," he said.
"It's something that resonates strongly with members of our club and it's a real privilege to work with Concern Australia to fund the program."
We couldn't do such important work to support children and young people without the support and generosity of wonderful partners such as Rotary clubs.
CEO Michelle Crawford shared that the club have been supporting Steps Outreach Service for more than two decades stating,

"We are thrilled to see Rotary Central Melbourne recognised in this way by District 9800.  This award is a well-deserved acknowledgement of the vision and impactful extension of a long-standing partnership with Concern Australia's Steps Outreach service. Without any ask of recognition or praise, Central Melbourne are a much-valued contributor and make the world a better place for young people we work with who are experiencing homelessness."
"There have been a number of ways we have worked with Concern Australia, including the scholarships," Mr Williams said.
"Each year we collect food hampers for families and individuals supported by Concern Australia. It's become a tradition for our club. Each Christmas we also invite the Steps Manager, Anne Mitchell, and other Concern Australia staff to our Christmas breakfast to collect the hampers and share stories of the families who are being supported. This makes the impact of what Rotary Central Melbourne does more real to the members.
"It's a very meaningful and ongoing relationship," he said.
We are always available to come speak to your club or community group about the ways you can partner with us to make a difference for vulnerable children and young people. If your interested and want to explore options please don't hesitate to contact Communication and Relationship Manager Lizzie Mettam at lizzie.mettam@concernaustralia.org.au or 0452 249 450 to organise a time.