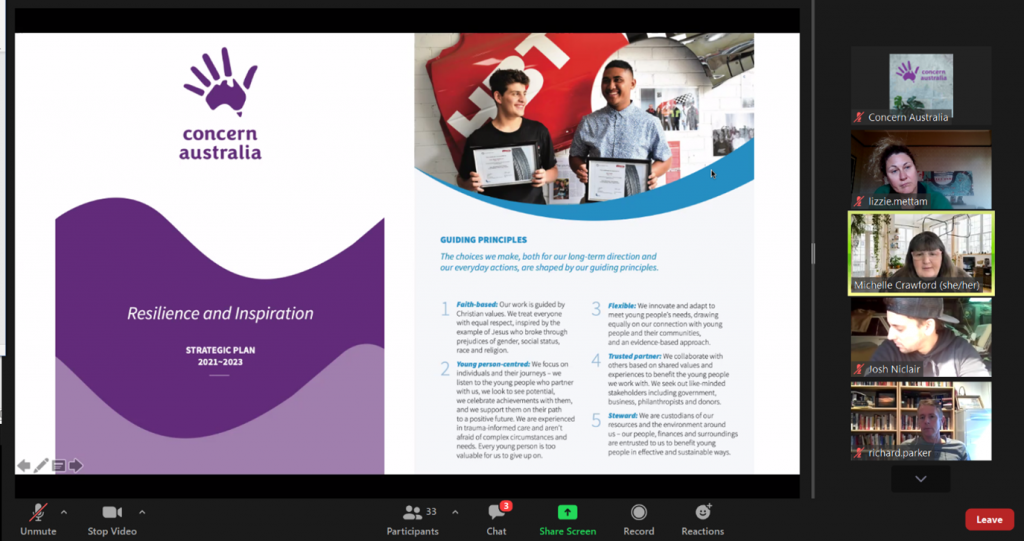 Last week we came together as a group to celebrate the tireless commitment and contribution our staff bring to their work supporting vulnerable young people and children.
Like last year we celebrated staff day online and from home due to the current COVID-19 restrictions, so people were Zooming in from all over Melbourne and regionally to share their stories, contribute their insights and consider what it means to be a part of the Concern Australia team. In preparation for the day, all staff were sent a generous hamper full of goodies to enjoy over the course of the day.
We enjoyed some fun games and activities as part of the day and got to know each other a little more.
Timely reflections, learnings and sharing insights were a large part of the day including the enormous challenges experienced since the beginning of the pandemic.
Earlier this year saw the launch of our Strategic Plan 2021-2023 Resilience and Inspiration which will shape our strategic intent in the seasons ahead. Unlike previous strategies, we have decided to be guided by five principles in all that we do:
Faith based
Young person-centred
Flexible
Trusted partner and
Steward
As a staff team we are so excited about the future and look forward to creating unique and fulfilling opportunities for the young people in our care across all our programs and can't wait to collaborate with current and future partners to deliver even brighter futures for them.
Here are some pictures of our celebration.