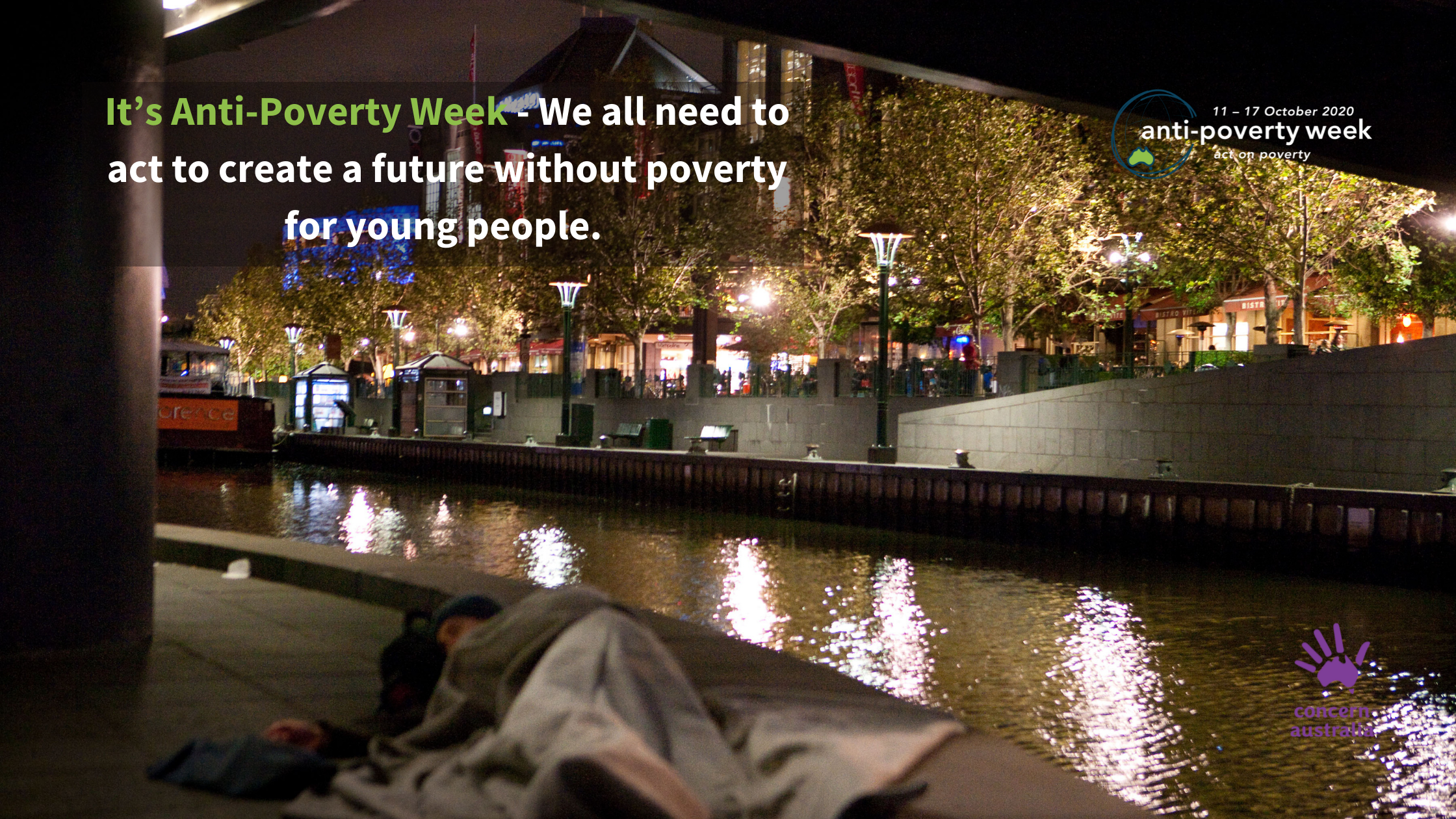 It's Anti-Poverty Week – We all need to act to create a future without poverty for young people.
Did you know that in Australia, there are more than 3.24 million people living below the poverty line? That includes 774,000 children. This is unacceptable, and at Concern Australia we will continue to advocate to do something about it.
Anti-Poverty week (17 – 23th Oct) is a chance to share facts and stories about the reality of poverty in Australia. This year's theme is #RaisetheRateforGood, and call on our government to address poverty for millions of Australians by raising income support above the poverty line and investing in social housing.
At Concern Australia, we see how poverty pushes vulnerable young people into becoming at-risk of homelessness due to shortage of affordable housing. Anne Mitchell who heads up our Steps Outreach Service supporting young people experiencing homelessness and unstable housing says, 'The longer someone stays homeless the more they become entrenched in homelessness.' It's a cascading domino effect that we need to stop.
As one of the wealthiest countries in the world it defies belief that one in six children grow up in poverty. That means maybe one meal a day if they are lucky.
Josh Niclair, Hand Brake Turn Workshop Coordinator mentioned; 'We know young people may not have had breakfast, or indeed, may not have eaten for the past 24 hours. You can tell they are hungry. We'd like to incorporate breakfast into HBT to set them up to learn for the day.  Poverty exists and we have to do something about it.' 
If you want to make a difference, you can Donate to our work here 
Together, we can advocate to end poverty in Australia.
If YOU WANT TO SUPPORT actions this week you can also:
Sign the Petition to the Treasurer which calls for an increase in the base rate of working age income support payments to at least $65 a day, a 50% increase in Rent Assistance and an investment in social housing
Share This Story, Choose Your Platform!