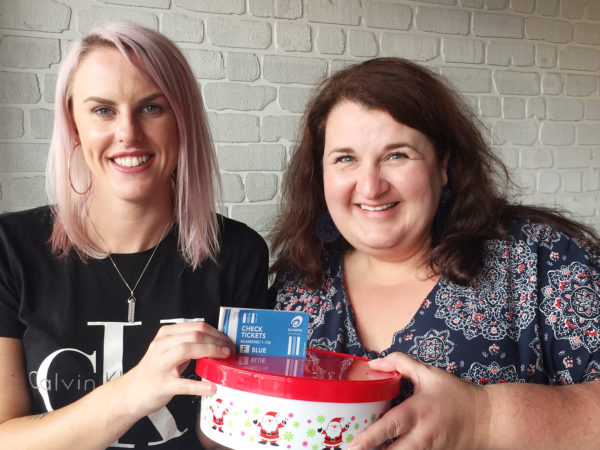 Pictured: Lauren Bowen and Michelle Crawford
We were delighted to hear from our Ambassadors, Justin and Lauren Bowen, that they wanted to do some fundraising for our Christmas appeal for young people experiencing homelessness.
They raised an amazing $1,518 for Concern Australia for our Steps Outreach Service by holding a raffle down at Simpson Speedway just before Christmas.
Of the money raised, the drivers alone raised $950 themselves, showing the generous spirit of the Formula 500 drivers who are always super giving when it comes to helping out the community.
We hear from Justin and Lauren that they feel truly blessed to be a part of the speedway community and that racing drivers are amongst some of the kindest people they know.
We would also like to say thank you to all the supporters who donated gifts and prizes for the raffle and for making it all possible:
There were some awesome prizes up for grabs and some very happy winners on the day!
F500 driver – Michael Pearson was the lucky winner of the Drivers draw, winning a DIRT SPORT Helmet Paint.
We had Street Stock driver Tim Hutchinson take home the hero cards donated by Trev and the team at MAXAM PRINTING, while Speedcar Driver Justin McMinn was the winner of a custom Oh3 Racing Team Website design.
Thanks to the Balcombe kids for helping spread the joy with their candy canes skills and to the Robilliard Family for being a huge support for Team Bowen.
Thanks also to the Simpson Speedway Club and their amazing officials for allowing Lauren and Justin Bowen to run the raffle and for giving it a plug over the speakers any chance they could!
And finally, a huge thanks to Lauren and Justin for organising the raffle and for being such wonderful Ambassadors for Concern Australia and spreading the word, not only about Hand Brake Turn, but for all the work that we do to bring hope and care for young people through education, housing and youth justice.
Share This Story, Choose Your Platform!