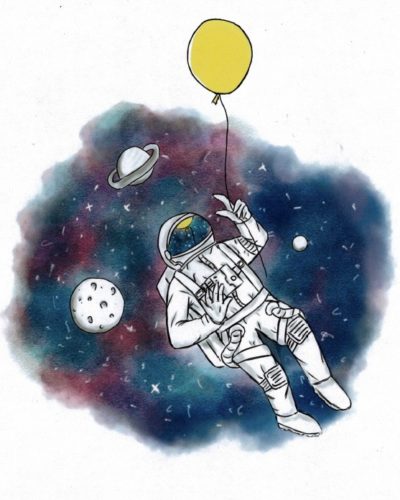 Pictured: Outer Space T-shirt Design by Julie Nguyen, Catholic Regional College in St Albans

Exhibition – Youth Homelessness T-Shirt designs
(a Homelessness Week event)
6th – 12th August
Kathleen Syme Library and Community Centre
251 Faraday St, Carlton VIC
Times: Mon-Thurs 9am-7pm, Friday 9am-6pm, Sat 10am-5pm, Sun 12pm-5pm
You are invited to an exhibition of designs by secondary schools students created for our 'Design a T-Shirt for Youth Homelessness' competition. The project brief was either to create a T-Shirt on the theme of youth homelessness or to create a design that would look good on a T-Shirt and that people would want to wear to raise funds for youth homelessness.
Julie Nguyen, the winner of the T-Shirt Design competition, described her 'Outer Space' design (seen above) to represent "there is always a way out, especially if you feel as if you are drifting into space. The yellow balloon conveys happiness and hope."
Our aim is to increase community awareness of youth homelessness, while celebrating the creativity of young people and their desire 'to make a difference'.
The exhibition is a display of students' designs as well as a display of the winning designs printed on T-Shirts and bags.
Congratulations to the winners of the T-Shirt competition:
1st prize – Outer Space by Julie Nguyen, Catholic Regional College, St Albans
2nd prize – Never Hopeless by William Bakker, Saint Ignatius College, Geelong
3rd prize – Only Half Dead by Delvana Dorbor, Catholic Regional College, St Albans
T-Shirts, hoodies and canvas bags printed with these designs can be ordered at the exhibition or via Hosier Hoodies online store.
All profits from sales will go to Steps Outreach Service, supporting young people experiencing homelessness to access stable housing and to have positive life outcomes.
For more information, contact Steps Outreach Service Manager, Anne Mitchell on 0425 770 048 or via email.
Share This Story, Choose Your Platform!