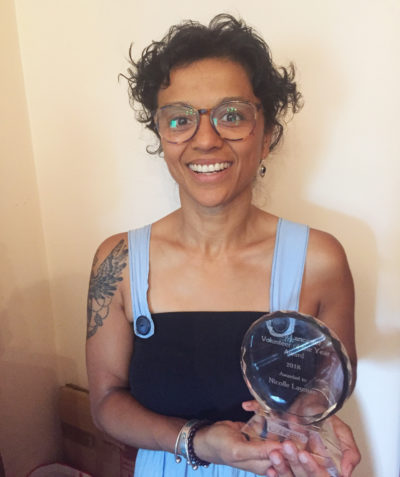 Pictured: Nicolle Layman with the inaugural Corey Lancaster award 
Congratulations to Nicolle Layman, a Volunteer Live In Mentor with our Inside Out program who won the inaugural Corey Lancaster Volunteer of the Year Award at our Volunteer Recognition Christmas Party on International Volunteer Day on 5 December, 2018.
Nikki was quite emotional and overwhelmed with receiving the Corey Lancaster Volunteer Award, especially because she had lived with Corey, who was also a Volunteer Live In Mentor before he passed away unexpectedly on 25 January 2018.
Nikki has been a volunteer with Concern Australia since August 2016.  Nikki had moved to Melbourne from Sydney in 2015 and had been living with her sister when a friend (Corey Lancaster) suggested that she might be interested in becoming a volunteer and live in with young people coming out of child protection and the youth justice system as a Lead Tenant/Live In Mentor.
After going through our recruitment process that took a couple of months, Nikki was accepted into the Inside Out program and moved into a house in Bayswater with Corey, as the other Live In Mentor.
The first young people that Nikki lived with in the house were "pretty troubled kids" and they didn't show any respect at first.  "I was thrown in the deep end and didn't know what to do.  But you grow and you learn with them," said Nikki.
Leading by example, you start by teaching them little things and showing them how to live in a house with other people respectfully.  "When they see you doing things, something happens and something changes in them.  They need consistency and you need to show them good habits."
Nikki was thrilled to get the award. When she first heard that we were giving out a Volunteer Award to honour Corey Lancaster, she thought to herself how awesome it would be to get this award! Then when they called her name out to say that she had got it at the International Volunteer Day Thank You Dinner she was overwhelmed!  "To be recognised for doing something that I love, meant that I was doing something that really mattered."
"Being a Live In Mentor isn't easy at times and you are working with really troubled kids, but it is worthwhile to know that you are making a difference for young people." Nikki said that she didn't realise how amazing it was to be a Volunteer Live In Mentor until she started to hear so many other people comment about how "big" it was to do what she does.
With the blessing of Corey's family, The Corey Lancaster Volunteer of the Year Award was established to be an annual award in September 2018 to honour the contribution and input that Corey Lancaster made for over 10 years working with young people and children as a Volunteer Lead Tenant/Live In Mentor.
The award will be presented each year to a Volunteer of Concern Australia who through their volunteering commitment has had an impact on the lives of young people in our care, and displayed a shared passion for Concern Australia's Vision of an Australia where young people and children have HOPE for a successful and positive life.
We hope that this award will honour Corey's love for life, his passion for adventure, his positive outlook and the tremendous impact that he had on the lives of many young people in our care.  We also hope that it will continue to inspire volunteers to make a positive contribution across all our programs.
Share This Story, Choose Your Platform!