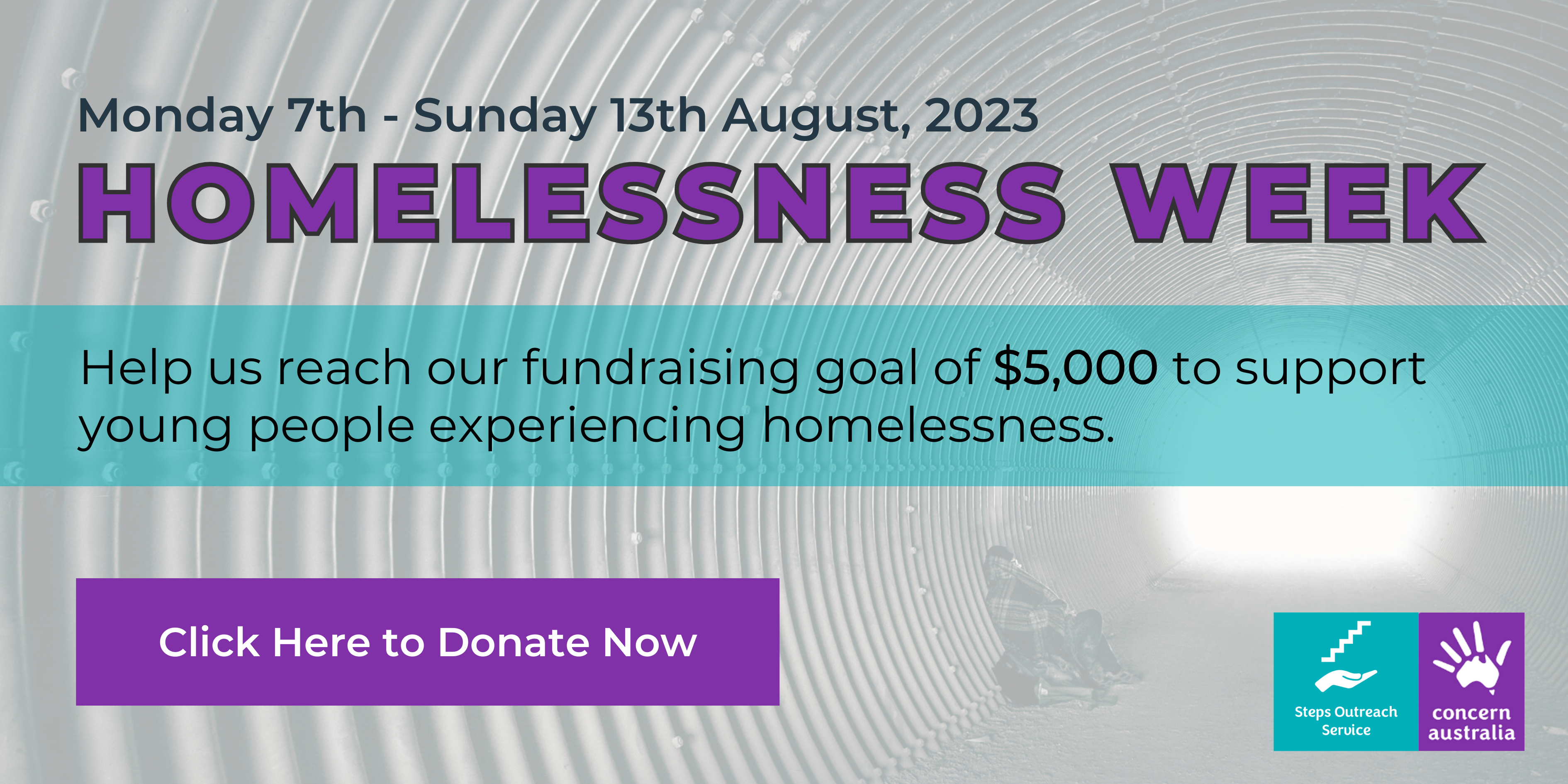 This week (August 7th – 13th) is Homelessness Week, with this year's theme being "It's Time to End Homelessness". We are using this opportunity to shine a light on the significant impact that homelessness has on individuals and communities, whilst sharing the critical work being done to help end homelessness.
Homelessness is not going away… in fact, it is only getting worse.
Recent Census data has shown that homelessness is increasing, with some Australian states experiencing as much as a 45% increase in individuals experiencing homelessness. The demographic that is most represented in these numbers are 18–24-year-olds, who exhibit the highest rate of homelessness per 10,000 people. With the soaring cost of living, a feared recession and an affordable housing shortage, the risk of homelessness is a harsh reality that many Australians are facing each and every day. Young people aged 12-24 make up the highest portion of people experiencing homelessness, at almost one quarter of the estimated 122,500 individuals.
That is why we need YOUR help!
Since 1985, our STEPS Outreach Service and their team of youth workers and volunteers have provided long-term relational support, referral and advocacy, and material aid as they help the young people and families with children to access positive pathways out of homelessness. These connections that our STEPS program creates, helps young people build a sense of self-worth and equips them with the tools they need to create a positive future.
Transformation Stories
Jordan (16 years old)
'Jordan' is a student who was kicked out of home last year and ultimately became homeless. He is currently couch-surfing at a friend's house and although he lives with his friend, he often does not have enough food.
Our support includes taking him to the grocery store and buying groceries with vouchers so that he can enjoy nutritional means and practice his cooking skills. This activity, whilst it may seem small, is impactful in helping Jordan gain independence and self-confidence. Jordan is currently studying Year 10 and doing very well academically, especially given his circumstances. Jordan has stated that he would enjoy driving and having this sense of responsibility, so our team has supported him in obtaining his Learner's Permit to help him become one step closer to that dream.
_________________________
Crystal (23 years old)
'Crystal' is a young person that our team met during street outreach when she was 17. We provided intensive relational and practical support to help her find and maintain accommodation and helped her access and attend counselling from AOD and mental health services.
Crystal is now doing well. She is 23 years old, living in safe, stable housing and working full-time.
_________________________
Ashley (15 years old)
'Ashley' is a student that has experienced trauma, poverty, domestic violence and homelessness. As a result of her mother passing away, Ashley is currently living with a relative.
Ashley loves to play computer games and watch TV shows, especially shows with action and adventure! Our STEPS team provide Ashley with 1:1 support to help her strengthen her social skills and bring her a step closer to gaining independence and having a positive future. Recently, our team have witnessed Ashley becoming more confident in her social skills and speaking with other people – she has even started to make some friends at school. Ashley is currently attending a pre-employment pathway that offers skills that can be used when Ashley finishes school and is looking for a job.
*Please note that to protect the privacy of these individuals, only alias' have been used.
How You Can Help
To support the life-changing work that STEPS does, we have set a fundraising goal of $5,000 to go towards running this program, including purchase of material aid and the wages of this dedicated team.
Any donation – no matter the amount – makes a difference!
How YOU can support STEPS Outreach Service…
Click on the 'Donate Now' button below to make a tax-deductible donation.
Would you like to become a Constant Companion?
Simply select 'Regular Giving' when you follow the donation prompt above, and identify your giving frequency… monthly, quarterly or annually.
Share This Story, Choose Your Platform!